---



Argyle Street : Published : 15/09/06

Planning ref. - 04/03664/DC / 10/02662/DC
Developer - Sood Enterprises
Architect - Hackland+Dore
Height - 6 floors
Total flats - 33
Cost - £4.5 million
Materials - Blonde sandstone and red brick
Location - 2 Old Dumbarton Rd
Status - Proposed
Start date -
Completion date -
Replacing a former petrol station (and St Enoch's United FC church) this student housing development aims to sympathetically reflect the solid/void proportions of neignbouring tenements. The scheme incorporates basement parking and ground floor retail.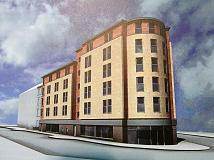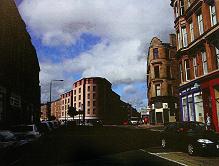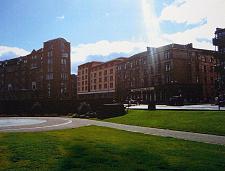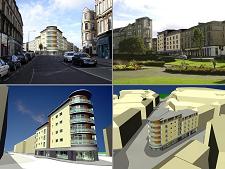 Argyle Street : Published : 17/12/10
A linear double height modular structure incorporating a street café, market kiosks, seating and lighting are planned for across the central reservation of Argyle Street. A second storey gallery and terrace which affords elevated views of Alexander Thomson's Bucks Head building, from which the new insertion takes its proportions. Elevations are predominantly glazed in a bid to maintain cross street views whilst bronze louvred panels, designed by Martin Boyce, will be illuminated by night.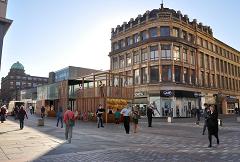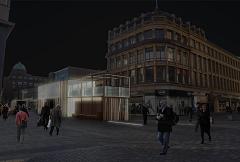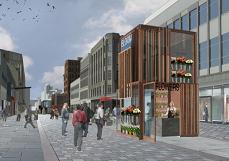 Morrisons, Gallowgate : Published : 20/11/10

Planning ref. - 10/02217/DC
Developer - Macdonald Estates
Architect - Smith Design Associates
Floor space - 50,000sq/ft
Cost - £15m
Location - Gallowgate, Hunter St £ Barrack St
Status - Proposed
Materials - Powder coated steel, polished zinc, Rockpanel 'wood' effect rainscreen, buff and dark blue brick
Start date -
Completion date -
This proposal for a Morrison's supermarket on the Gallowgate features a prominent clocktower and a concrete collonade along the Gallowgate frontage.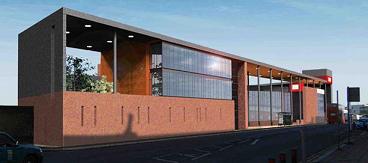 Argyle Street : Published : 20/11/10

Planning ref. - 10/02183/DC
Developer - Macdonald Estates
Architect - Yeoman McAlister
Height - 6 floors
Total flats -
Cost -
Location - 1175 Argyle St
Status - Proposed
Materials - Sandstone, slate & brick
Start date -
Completion date -
This proposal for student accommodation on the Argyle St/Kelvinhaugh St junction emphasises vertical window treatment to marry with neighbouring tenements.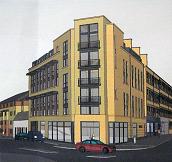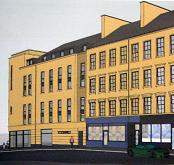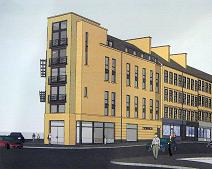 Artto : Published 20/11/10

Planning ref. - 10/02111/DC
Developer - Artto Hotel
Architect - Elder & Cannon
Materials - Bronze & silver anodised aluminium
Total rooms -
Height - 8 floors
Cost -
Location - 37-39 Hope St
Start date -
Completion date -
A Victorian tenement is to be extended both upward and outward via a four storey rooftop extension and a full height façade in front. This will see windows stripped from the existing façade and a protruding bay window cut away to allow insertion of a projecting skin of anodized aluminium. Designed as a "singular" response to the competing needs of old and new it will provide a dramatic continuation of other recent developments on the prominent thoroughfare, notably the Copenhagen Building and Centro.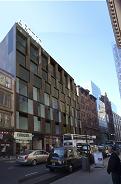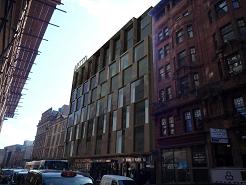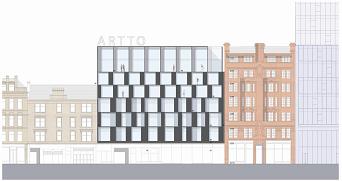 Bridgeton Cross : Published 05/11/10
Planning ref. - 10/02366/DC
Developer - Clyde Gateway
Architect - Page\Park
Cost - £6.5m
Materials - Granite, glass & sandstone
Floor space - 35,000sq/ft
Location - 2-16 Orr St
Status - Planning
Start date - Feb 2011
Completion date - Late 2012
The category B listed Olympia Theatre is to be brought back into use as a sports centre, offices, library and cafe in a major facade retention project. A canopy is to be reinstated to the original entrance, leading to a foyer, leading to a timber spiral stairwell. it will complement public realm enhancements to the Cross which will see Caithness and granite stone paving, benches, lights, CCTV, planting and a Robert Burns statue installed together with restoration of a victorian pavilion. An existing public convenience will be infilled and cleared.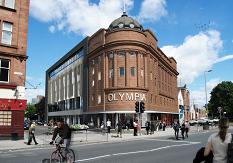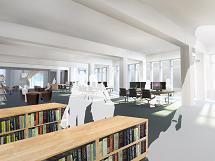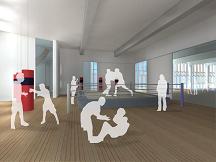 19 Murano St : Published 07/03/09
A residential crescent abutting the Forth & Clyde canal.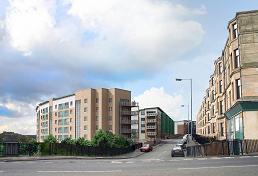 Renfrew St : Published 09/05/10
Planning ref. -
Developer - Inehaze Ltd
Architect - Lewis & Hickey
Height - 8 floors
Materials - Trespa wall panels
Cost - £3.5m
Location - 134 Renfrew St
Status - Proposed
Start date -
Completion date -
Taking its design cue from the adjacent Fleming House, upon whose car park the structure will sit, this student accommodation block attempts to straddle the competing scales of post and pre war development on the street. Comprising coloured glazed curtain walling and blockwork the build suffered a stinging rebuke from a design review panel who castigated its "inappropriate" scale, massing and design. Criticism was also levied at the choice of materials and a "deviation from the building line." Inehaze, who had hoped to complete for the 2011 academic year, stressed that the structural costs associated with building on top of an underground car park severely constrained their available budget. The developer has also refused to incorporate a green roof stating that, though affordable, such a feature would present irreconcilable "management" and "safety" issues.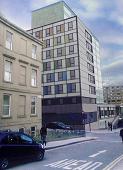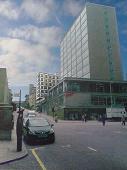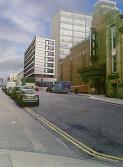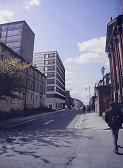 Minerva Street : Published 23/09/10
Planning ref. - 10/01991/DC
Developer - Bellorr
Architect - Holmes Partnership
Height - 7 floors
Materials - Blonde sandstone, zinc, blonde brick & white pre-cast concrete
Total flats - 55
Cost - £4.5 million
Location - 33-67 Minerva St Bell Street
Status - Planned
Start date -
Completion date -
Referencing the Saint Vincent Crescent tenements opposite the build features windows combined to two storey height in order to disguise low ceiling heights. Incurtilage parking is provided over two levels to the rear with a zinc parapet terrace extending above the tenemental datum to provide terrace access for residents.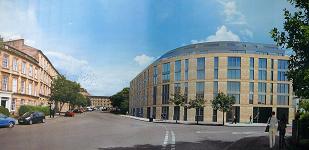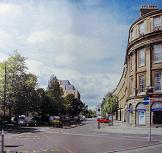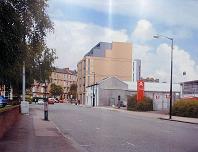 Glasgow School of Art : Published 08/09/09
Holl has taken inspiration from the inventive manipulation of light evidenced in the 1909 Art School to arrange studios and workshops with natural side and top light, supplemented by "driven voids" which conduct natural light and ventilation direct to the buildings core. The building provides enhancing teaching, learning and research facilities available to GSA students and staff together with publicly accessible exhibition and interpretation spaces.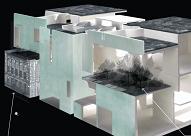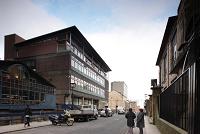 Centralised facilities for the GSA campus, including exhibition spaces, seminar spaces, digital media and the "Window on the Mackintosh" centre are located on the ground floor. Located one level below, a 300-seat lecture theatre has direct access to the lobby as well as the centralized workshop and associated assembly spaces. Immediately above the ground floor are the school directorate and administrative offfces (on the south) whilst studio space occupies the entire north side at this level and moving up through the building. The new GSA refectory is located on level 2 above the offices. Along the South elevation, at the same height as the Mackintosh main studios, there is a landscape loggia in the form of a Machair that gives the school an exterior social core open to the city. Natural vegetation with some stonework routes water into a small recycling water pond which will also reflect dappled sunlight onto the ceiling inside.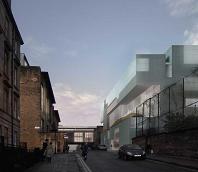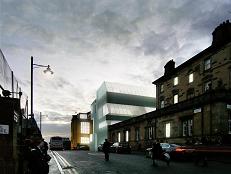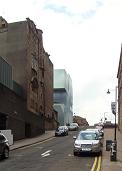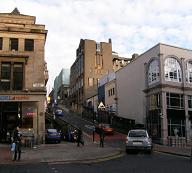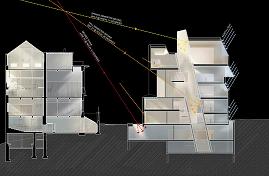 Alternate designs
Amongst the practices to submit were Elder & Cannon who have adopted a solid, tactile approach, displaying a robust copper finish lightened by full height glazing in a regimented rhythm along the length of Renfrew Street. Francisco Mangado on the other hand are pursuing a playful approach with a grand foyer space displaying due deference to the masters work across the road and offset by a feature cantilever above. Slender external skeleton of subtly hued fins inject a splash of colour. Hopkins has made use of the south facing façade to create a new sun trap on Renfrew Street along pedestrianised outdoor steps.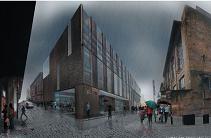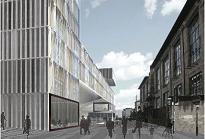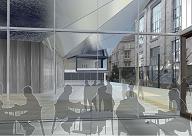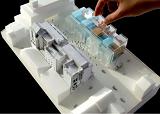 Utilising a wood cut model John McAslan and Nord have produced a sculptural response to context, developing a series of stacked cubes to break down the buildings mass and disguising a voluminous central atrium space. Benson & Forsyth who propose a multi layered angular box draped with greenery and topped by a dramatic roof garden. Central to the project is a grand double entrance directly facing the famous steps of the Mack. An enigmatic entry follows from Grafton Architects, with indistinct line drawings appearing to show the common dual height entrance space, decorated by hanging art. A solid masonry façade is broken by Tetris style inserts whilst a glazed ground level grants sight direct to a basement level.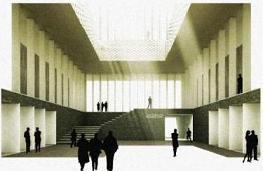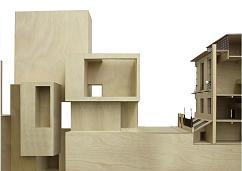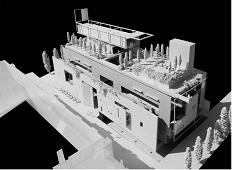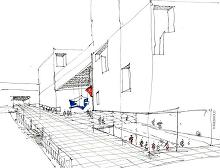 College Heights : Published 12/09/10
Planning ref. - 10/01844/DC
Developer - HBS Properties Ltd
Architect - GD Lodge
Height - 7 floors
Materials - Grey/black ceramic rainscreen, grey/charcoal facing block and light render
Total flats - 48
Cost - £5 million
Location - 331 Bell Street
Status -
Start date -
Completion date -
These homes are being aimed at armed forces personnel and veterans through the Homes for Heroes charity.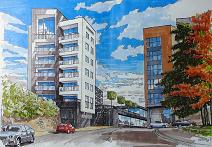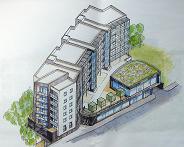 Great Eastern : Published : 12/07/09

Planning ref. - 05/02142/DC
Developer - Milnbank Housing Association
Architect - CCG
Height - 8 floors
Total flats - 110
Cost - £10 million
Location - 100 Duke street
Status - Approved
Start date - Sept 2005
Completion date -
Work is continuing apace to remodel the former Great Eastern hostel into 110 homes following an earlier partial collapse of a gable wall. It will be joined by extensive new build on site with a six storey brick and render block mimicking the massing of the Great Eastern to Duke Street and smaller scale terracing to the rear. The work follows recent improvements carried out to the neighbouring Duke Street Housing estate which has been remodelled externally by Glasgow Housing Association.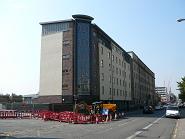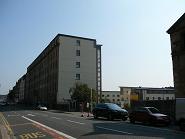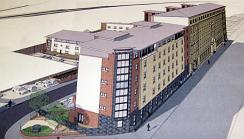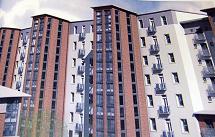 Lynedoch Street : Published : 04/09/10

Planning ref. - 10/01977/DC
Developer - Ashlar Estates Ltd
Architect -
Materials - sandstone and slate
Height - 6 floors
Total homes - 51
Cost -
Location - 19 Lynedoch Terrace
Status -
Start date -
Completion date -
The development joins the proposed completion of Park Terrace.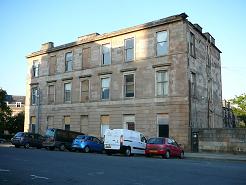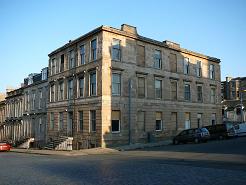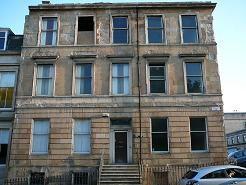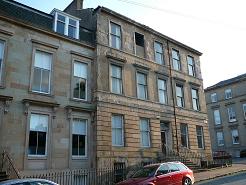 Yorkhill HA : Published 04/09/10
Planning ref. -
Developer - Yorkhill Housing Association
Architect - Anderson Bell Christie
Height - 6 floors
Total flats - 31
Cost -
Materials -
Location - Argyle Street
Status - u/c
Start date - Summer 2010
Completion date - Early 2011
Yorkhill Housing Association's new headquarters will incorporate 31 flats, eight of which will be made available for shared equity. It sports full height glazing at the prominent junction of Argyle Street and Haugh Rd.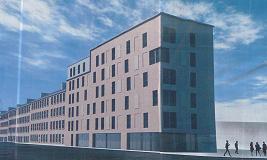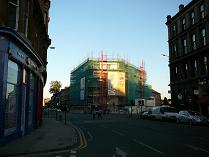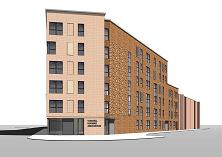 Thurso St Student Housing : Published 04/09/10
Planning ref. - 09/00931/DC
Developer - Watkin Jones
Architect - Austin Smith Lord
Height - 10 floors
Total flats - 402 rooms
Cost - £12m
Materials - Red & blonde brick, render
Location - 5 Thurso Street
Status - u/c
Start date - July 2010
Completion date -
This student residential scheme occupies the site of a former bakery and industrial units on the banks of the river Kelvin and comprises two blocks of varying heights arranged around an internal courtyard, each with an oversailing roof on the upper levels.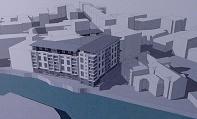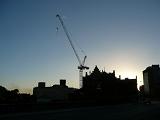 Previous scheme
3DReid's proposal for Ashtenne provided 76 flats.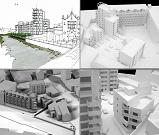 Selfridges : Published 25/07/09
Planning ref. - 10/01115/DC
Developer - Selfridges
Architect - ash
Cost - £3 million
Location - Trongate/Candleriggs/Hutcheson Street and Wilson Street
Status - Planning
Start date -
Completion date -
A public space and car park is mooted in the "short to medium term" for Selfridges on hold 200,000sq/ft store. A temporary market, event space, pedestrian links, landscaping and an outdoor café are being investigated with revenue raising potential being explored through advertisement banners on the gable walls of buildings. Public realm would be focussed on the Trongate where buildings, many of them listed, will be retained however an existing gap site will act as a main thoroughfare into the area which could feature a stretched fabric corner feature. Reclaimed stonework and railings would define the site boundary.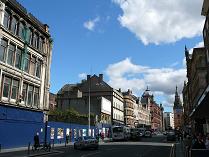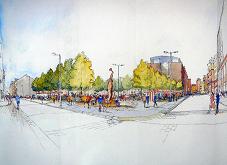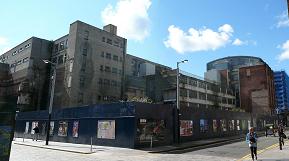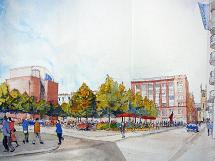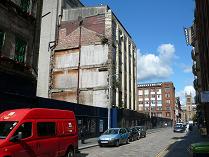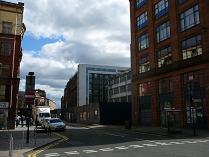 Previous scheme
The plans in their current form do not represent a creative use of space however and neglect the primary Candleriggs frontage. A new residential is planned at 139-143 Trongate. Toyo Ito had proposed a store with "vertical emphasis" to break up its 130m Trongate facade, be "highly contemporary" and employ "sharp, jagged edges". Merchant Gate from Pathfinder PLC & Conran & Partners preceded it in October 2002.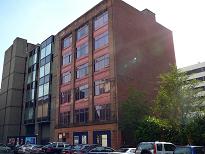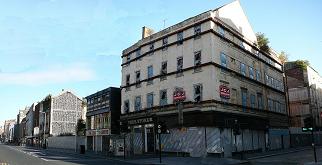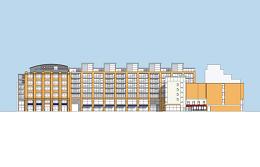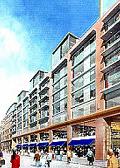 Telfer House : Published 30/07/10
Planning ref. - 10/01516/DC
Developer - Sidon Developments
Architect - CM Architects
Cost - £2.5 million
Materials - Copper fascia & Terne coated steel
Total units -
Location - 74 Miller Street
Status - Proposed
Start date -
Completion date -
All windows in this redundant office building are to be replaced with white painted timber versions to match the existing configuration whilst existing stonework is stripped of paint, cleaned and repointed where necessary. Brickwork to the rear is to be rendered and a rooftop plant room will be demolished to add an additional two floors of accommodation.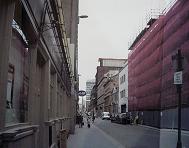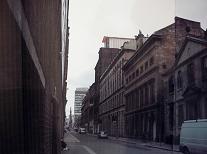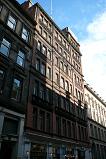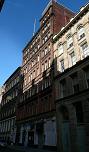 Margaret Blackwood Housing Association : Published 08/07/10
Planning ref. - 10/00868/DC
Developer - Margaret Blackwood HA
Architect - Collective Architecture
Cost - £5.5 million
Materials - Buff brick, anthrecite zinc
Total units - 44 flats, 5 townhouses, 1 retail unit
Location - 716 Argyle Street
Status - Planning
Start date - Spring 2011
Completion date -
A central buff brick block, anchored by two "bookends" with recessed zinc infill between, replaces an existing 1980s sheltered housing unit and reinforces the tenemental grid as part of a wider masterplan for the Anderston area.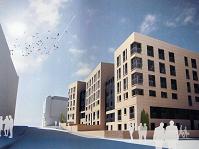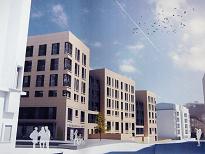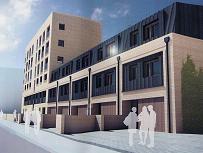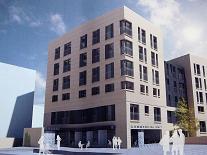 Large south-facing openings and juilliet balconies are designed to maximise solar gain and cross-ventilation, whilst providing spacious affordable family housing.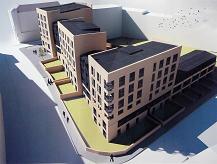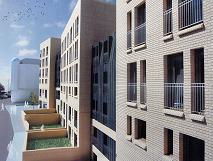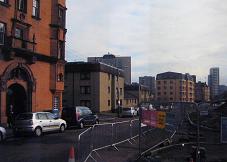 Sauchiehall St : Published : 07/06/10

Planning ref. - 10/00736/DC
Developer - Wayne Gardner Young
Architect - Dunard Design
Materials - Render, metal panels & juliet balconies
Total beds -
Height - 8 floors
Cost -
Location - 92-98 Sauchiehall St
Status - Planned
Start date -
Completion date -
A non descript block on Glasgow's Sauchiehall Street harbours an exotic secret past as a Moorish themed 1913 cinema. Sadly this original flamboyance has been steadily stripped from the building such that now only a couple of arches and a portion of barrel vaulted ceiling remain. These details will be retained in an extensive overhaul of the property into the city's latest hotel.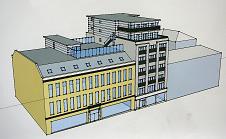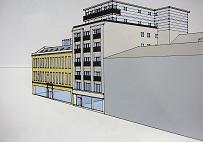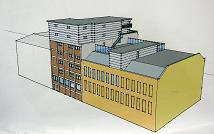 Clouston St
Planning ref. -
Developer -
Architect - Adam
Materials -
Total flats -
Cost -
Location - Clouston St, west end
Status -
Start date -
Completion date -
A series of perimeter blocks are designed to slot into a surrounding grain of 19th century tenement blocks together with smaller townhomes arranged around a central public park. Ornamentation is used to define key points.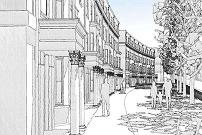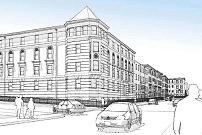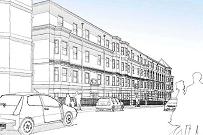 The Glasgow House : Published 05/06/10

Planning ref. -
Developer - GHA
Architect - PRP
Materials - rendered masonry
Total flats - 4
Cost -
Location - Laurieston
Status - u/c
Start date -
Completion date -
GHA are touting a new breed of energy efficient home said to reduce water and heating bills to a mere £100 per year. Each 3 bed terraced home will boast high levels of insulation, sun rooms and utilise prefabrication techniques. Part of a drive from the homes agency to boost energy efficiency across its vast estates, said to house upwards of 1 in 4 glaswegians.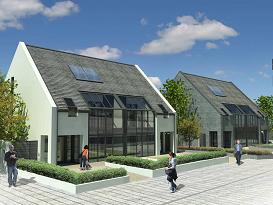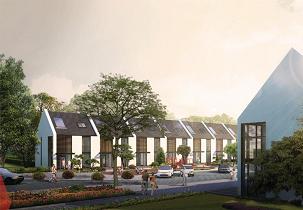 Sinclair Dr : Published 03/09/07

Planning ref. - 07/2372/DC
Developer - Basi and Associates Ltd
Architect - Riach Partnership
Height - 6 floors
Materials - Sandstone, facing block, render and zinc
Total flats - 15
Cost - £1.5 million
Location - 8 Sinclair Dr, Langside
Status -
Start date -
Completion date -
This flatted development replaces an existing detached house. Designed to terminate a tenement block it boasts a sandstone facade in keeping with its established neighbours. A restaurant will be accommodated on ground and basement floors.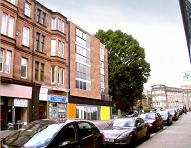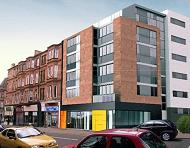 Darnley Rd
Planning ref. -
Developer -
Architect - Riach
Materials -
Total flats - 18
Cost -
Location - Darnley Rd, Pollokshields
Status - Pre-planning
Start date -
Completion date -
The restricted site of a former petrol filling station has gestated twin shards of accommodation enclosing a central courtyard and boasting an exclusive rooftop bowling green.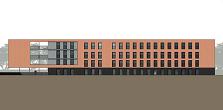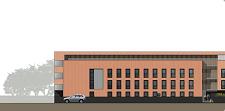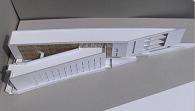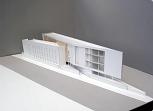 Pollokshields Housing
Planning ref. -
Developer - GHA
Architect - Richard Murphy
Materials -
Total flats -
Cost -
Location - Maxwell Dr/St. Andrew's Crescent
Status - Feasibility study
Start date -
Completion date -
Two T-shape deck access slab blocks connected by aerial walkways are to be demolished while a slab block fronting Maxwell Dr and an L-shape annexe at St Andrew's Crescent are remodelled in this failing Pollokshields housing estate. All blocks currently suffer from a range of technical and design flaws including random changes in level, leaks and poor acoustics. Reconfigured flats will be given independent access with private gardens to reinstate a terrace of linked villas on Maxwell Dr. A quarter crescent block of housing will be built on derelict land fronting St Andrew's Crescent with the space between this and the L-block transformed into a shared tenants green.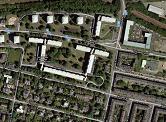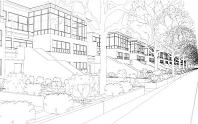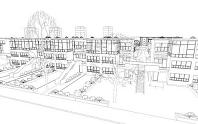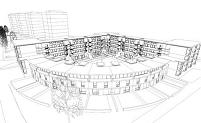 Two74
Official site
Developer - Ashfield Land
Architect -
Height - 9 floors
Floor space - 105,000sq/ft
Area - 20 acres
Total rooms - 170
Cost - £50m
Location - Cambuslang Rd
Status - Approved
Start date - March 2011
Completion date - Autumn 2013
A retail park comprising a supermarket, hotel, shops, restaurants, cinema & 800 space car park on land adjacent to junction 2 of the M74 extension, on the route to the Commonwealth Games site.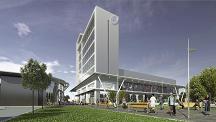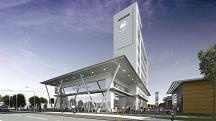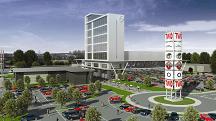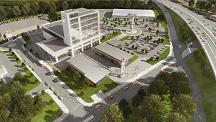 Urban Realm 2 : Published 29/05/10

Urban Realm devotes an issue to exploration this quarter as we seek out hidden nooks and crannies in a quest for the malign and sublime. We're opening the door to forgotten spaces and places and observing them through the contrasting prisms of urban renewal and urban decay - the yin and yang of our built environment. With the former we report back from the Scottish Design Awards where we dish the dirt on Britain's most expensive composting shed. We also take a peak at Scotland's Housing Expo - a primer for this Summer's must see Highland attraction.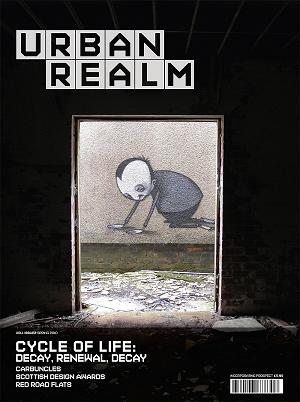 Life is not all sweetness and light however and Urban Realm does not shirk from exploring the horrors that lurk in the darker recesses of the country, exposing what others might seek to sweep under the carpet. The Carbuncle awards are a longstanding Urban Realm staple and this year they are unleashed with greater geographic reach. But beauty can be found in the most surprising of places as we discovered in the ghost village of Polphail. No living inhabitants may have ever stayed here but the village has been brought to enigmatic life through artistic intervention. We also explore Red Road, a Glaswegian housing estate synonymous with decay but whose myths donÕt always match the reality of life for those tenants who call it home. At present eight gaudy totems to failed housing policy continue to push skyward as they have done since the late sixties - but not for much longer. Urban Realm reports from a community in limbo. Sign up for a free trial today.


5 Broomloan Court, 21 floors Demolished Summer 2010 : Published 23/05/10
17 Broomloan Court, 21 floors Demolished Summer 2010
29 Broomloan Court, 21 floors Demolished Summer 2010
Developer - Rangers Football Club & Las Vegas Sands
Architect - Young and Gault
Materials - Brick,sandstone panels and glazing
Total homes - 279
Floor space - 168,000sq/ft
Hotel rooms - 140
Cost - £350 million
Location - Ibrox
Status - On hold
Start date -
Completion date - 2014
A hotel with conference and banqueting facilities, a fitness centre, shops, bars, restaurants and a full sized sports pitch were planned for derelict land around Ibrox stadium.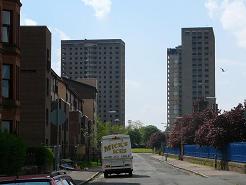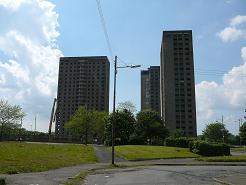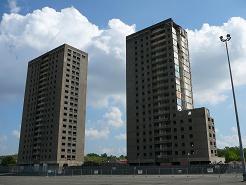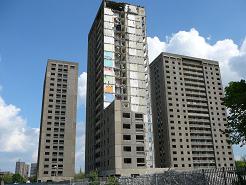 A regional casino was also planned for the site alongside three others at Glasgow Harbour, Queen's Dock 2 and St Enoch. The plan does not stack up financially in the current climate however and scaled back plans for a superstore is being blocked by the council.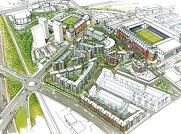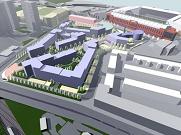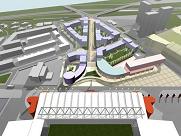 Maggie's Lanarkshire
Developer - Maggie's Centres
Architect - Reiach & Hall
Cost - £800k
Location - Monklands Hospital
Status - Planned
Start date - Early 2011
Completion date - 2015 (Maggies)
Centred upon the kitchen table the design of this cancer care centre is domestic in scale incorporating coutyards and garden areas.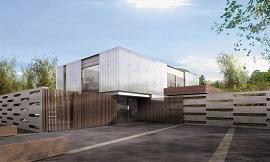 Queens Park Bandstand : Published 14/05/10
Official site
Planning ref. -
Developer - GIA
Architect -
Cost - £500k
Location - Queens Park
Status - Competition
Start date -
Completion date -
An impressive 77 entries have been received for the Queens Park bandstand competition, whose brief was to design a multi purpose replacement bandstand. Amongst the submissions is a performance platform designed to appear to float above a nearby pond with lighting that reflects in the water.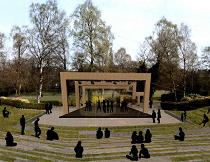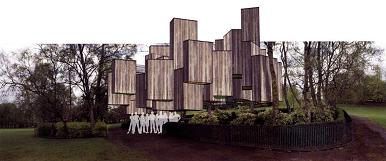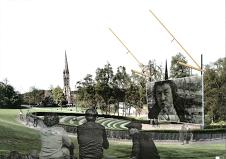 Another proposal takes its inspiration from the form of Central Station to generate a linear space albeit constructed from untreated oak rather than wrought iron. This leads from the original amphitheatre and extending out into the park to a stage area. Adding further spice to the mix is a shell like bandstand to protect the stage from the elements with a 'pocket' area at the back lie fitting rooms and storage space.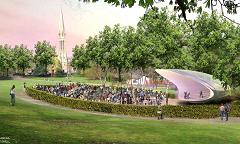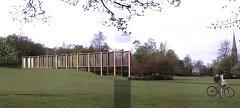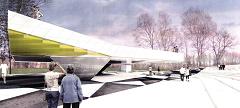 Manse Brae : Published : 14/05/10

Planning ref. -
Developer - Southside HA
Architect - Assist
Height - 5 floors
Materials - Reconstituted stone, glazing
Total flats - 46
Cost -
Location - Cathcart
Status - Proposed
Start date -
Completion date -
Adjacent to the White Cart Water this residential scheme is built to the maximum allowable density for the area owing to the proximity of Cathcart Station and roads access. Massing comprises two groups ranging from a five storey block that curves around Old Castle Road prior to stepping down to a three storey block at the top of Manse Brae. Parking areas will be located to the rear. Emphasis will be placed on gable terminations to denote the start and end of the development.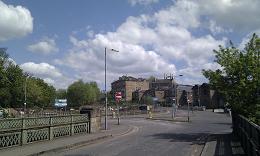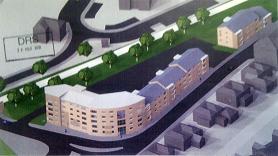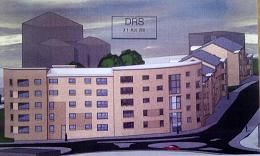 St Andrew House : Published : 13/05/10

Planning ref. - 09/92526/DC
Developer - ING, Regent Capital PLC
Architect - Ryder
Materials - Unitised curtain walling, aluminium fins, thermastone and render
Total beds - 210
Height - 17 floors
Cost - £27.5m
Location - 141 West Nile St
Status - Approved
Start date - Summer 2010
Completion date -
Existing concrete cladding panels on this obsolecent block are to be stripped and replaced with curtain walling and aluminium fins to both provide depth to the elevations and impart verticality to the tower whilst contrasting with solid horizontal banding on the podium level. 50% of the existing rooftop antennae will be removed with the remainder enclosed and strip lighting specific to the Premier Inn brand will integrate with signage. The business premises renovation allowance may make the project viable.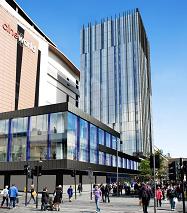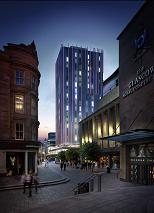 Opinion
Whilst certainly ticking all the right boxes the scheme is nonetheless hamstrung by necessity of working with a poorly designed and specced structure and the resultant degree of compromise which could have been avoided. That said forced retention does bequeath a height new build would struggle to replicate whilst the glazed and stone cladding certainly imparts a clinical freshness to the present stained monolith. The reworked podium is less convincing, seeming to rise above the street line and back for no good reason, perhaps soluble through provision of rooftop cafe terracing.

Previous scheme
A prior proposal from Aedas.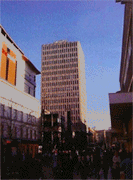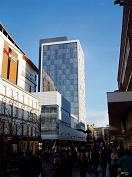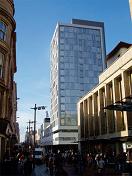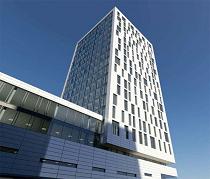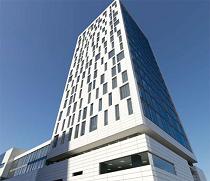 Oran Mor : Published 01/05/10
Planning ref. - 06/02756/DC
Developer - Oran Mor
Architect -
Cost -
Location - Byres Rd/Gt Western Rd
Status - Complete
Start date - 2002
Completion date - June 2004
The Oran Mor, meaning 'great melody of life' or 'big song' in gaelic, is a repurposed west end church boasting murals by Alasdair Gray.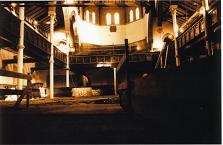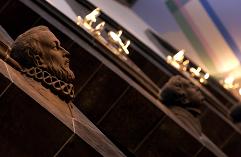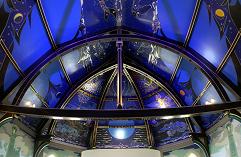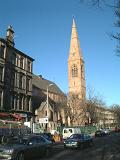 Bridgeton Business Park : Published 01/05/10

Planning ref. -
Developer - Safer Glasgow
Architect - Cooper Cromar
Materials - Brick
Height - 4 floors
Floor space - 65,000 sq/ft
Cost - £9.7 million
Status - Planned
Location - Bridgeton Cross
Start date - Summer 2010
Completion date - March 2012
The 500 scattered staff of Glasgow Community Safety Services are to be brought together to facilitate provision of community CCTV and introduce anti-anti social behaviour measures targeting drink and drug abuse. It forms part of a wider business park development on a derelict 30 acre site near a new junction of the M74 extension. In architectural terms the facility is intended to recreate an urban frontage along London Rd, though with a 10m setback to avoid foundation work destabilising a disused railway tunnel beneath the street. A feature atrium is designed to create an open aspect to the road with the form an conscious contemporary evocation of the former tenemental and industrial architecture of the area.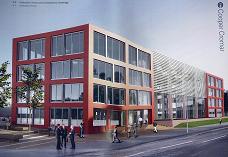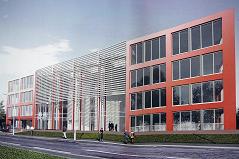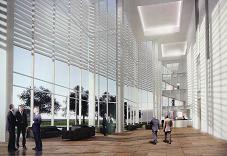 Forth & Clyde Canal
Official site
Planning ref. - 06/00845/DC (Speirs)
Developer - ISIS/British Waterways
Architect - Make, Rankine Fraser, KOAN3 and Kevin Murray Associates
Materials -
Height - 8 & 11 floors
Area - 1000 acres
Commercial space - 100,000sq/ft
Total homes - 250 (Speirs) & 800 (Maryhill)
Cost - £100 million (Speirs) & £100m (Maryhill)
Status - Masterplanning
Start date - 2009
Completion date - 2020
A mix of flats, terraces, duplexes and mews homes for social and private occupiers are planned for land adjacent to Maryhill Locks with first phase work being funded by Maryhill Housing Association. Already Hypostyle Architects have submitted a planning application for the development of 125 new homes, ranging from terraces, cottage flats and flats for both sale and social rent.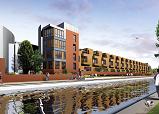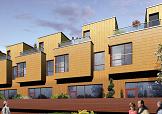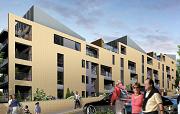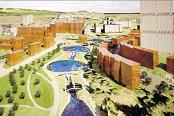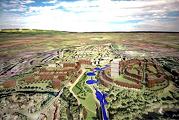 The Modern Institute
Planning ref. -
Developer - The Modern Institute
Architect - RMJM
Photography - Neale Smith
Cost - £500k
Location - Osbourne Street
Status - Complete
Start date -
Completion date - 2010
A traditional bath house in Glasgow's Merchant City has been re-imagined as a home for the Modern Institute, a private art gallery representing contemporary artists. The red sandstone wash house has been scrubbed up on the outside and whitewashed on the inside to provide clean and contemporary gallery spaces in addition to an office, viewing room, bookshop and kitchen. Original tiling and rubber floors retained in support areas, a tangible reminder of the buildings Victorian role.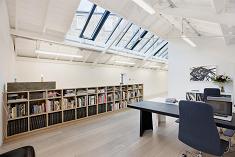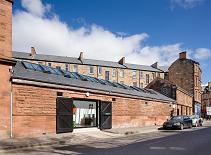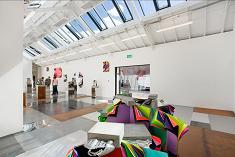 Grand Central : Published 15/08/09

Planning ref. -
Developer - Principal Hayley
Architect - Crerar
Height -
Total beds - 180
Materials -
Cost - £20 million
Location - Hope St
Status - u/c
Start date -
Completion date - Sept 2010
The Quality Hotel was regarded as something of a misnomer by those with the misfortune to stay there, its grimy grandeur not enough to counter faulty lifts, mysterious stains, blockages and asbestos. This house of horrors theme was reflected in reviews advising of flickering lights, boarded up doors, clanking plumbing and corridors likened to scenes from The Shining. Particular criticism was levied at the basement health centre, which was subject to repeated flooding and mould ingress, a situation not aided by a pool which had been left stagnant since closure invoking a powerful aroma that one prospective purchaser likened to "entering hell". Wisely asbestos contaminated basement areas are simply being cleaned up and sealed whilst attic spaces will remain similarly off limits.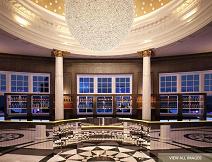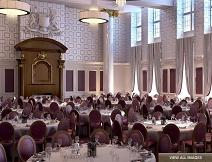 Historic Scotland were said to be "horrified" by some of the crass alterations made to the famous haunt over its long decline, including partition walls, suspended ceilings and the destruction of period features. Crerar plan to reinstate period features and install a dramatic chandelier cascading down through the central grand staircase, dramatised by a polished floor and reflective ceiling. Focus for the works are first floor public areas, where marble flooring is being uncovered from beneath dated carpets to provide a new champagne bar overlooking the station concourse. Business travellers will be targetted through rejuvenation of a 350 seat conference hall complete with revealed capitals and a recreated coffered ceiling, traditional in feel but with modern touches. Hayley believe that this investment in a time of recession will net them "sensible" quotes on work and stress that this is a profit driven venture, calculating that revenue streams from a fully operational hotel would recoup a profit for shareholders investment.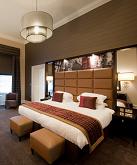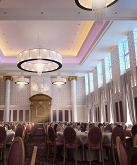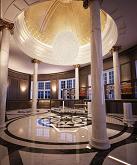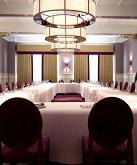 Metro System (Incorporating Clyde Fastlink) : Published 20/12/07
Official site Hillhead subway station could find itself in the vanguard of a 30 year £300m modernisation drive which will see each station on Glasgow's subway system receive a much needed facelift together with the introduction of driverless trains. Central to the design is a desire to keep costs down whilst improving lighting and the quality of finish on the fading 1979 interiors. It is not just infrastructure which appears to be stuck in a 1970s time warp however, staff have been accused of holding to outmoded working practices which have been contributing to a decline in the system over recent years, seeing the system close early on Sundays and blocking a privately funded expansion of St Enoch station into a nearby shopping mall. These plans rely on funding being forthcoming from the Scottish Government with SPT warning that the subway system could be forced to close if the modernisation programme is not implemented.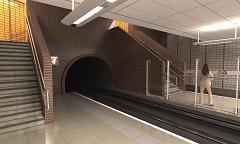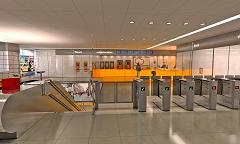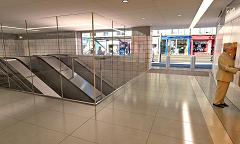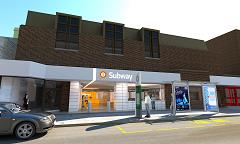 This could integrate with Clyde Fastlink which will facilitate buses (in anticipation of later conversion to trams) to connect 31 halts along both banks of the Clyde. Northern stops commence from the Broomielaw via Cheapside, Finnieston road bridge (with inbuilt capacity for future South bank extensions), Elphinstone Urban Village, Transport Museum past Glasgow Harbour 1,2, 3 and out to Clydebank Rebuilt. On the south bank buses will serve Tradeston, Pacific Quay, Graving Docks, Govan, the Southern General and Renfrew Riverside. Service will run at 6 minute intervals.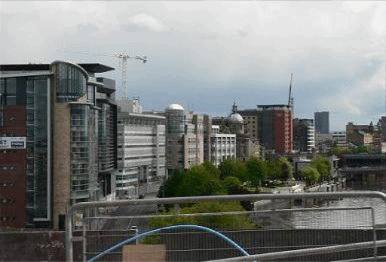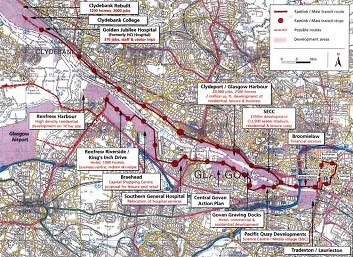 Buses will use existing roadway for the restricted stretch in front of River Heights, the scrub land is the site of a later phase of Central Quay. The trams are a medium term ambition likely only to emerge as spine within a wider network.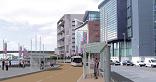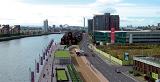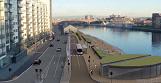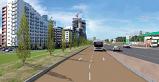 Vision
A fantasy Metro system would see the conversion of some heavy rail lines, such as the Cathcart circle, into light rail. Such a hybrid system would be able to navigate heavy and light rail lines enhancing operational flexibility. Branch lines could be added to the rail network by utilising disused tunnels along with construction of cut and cover and overground track. One such idea is to reopen the London Road tunnel from Bridgeton to Parkhead thus connecting the SECC with Celtic Park, two of the primary venues for the Commonwealth Games. Following the existing Argyle line to Exhibition Centre it is imagined interchange at Glasgow Cross would open up services to the south but necessitate Argyle St stations closure and an underground pedestrian link could be constructed between Central and St Enoch. Successive phases would see the line extended westward from Exhibition Centre through to Maryhill.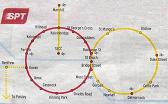 Central Quay : Published 10/04/10
Official site
Planning ref. - 06/03523/DC, 08/01893/DC (Prior consent)
Developer - Goodman
Architect - Keppie
Height -
Floor space - 500,000sq/ft
Hotel beds -
Cost - £90 million
Area - 11 acre
Materials - Pale cream & grey ceramic tile rainscreen (Hotel)
Location - Warroch Street/Whitehall Street and Anderston Quay
Status - Pre-planning
Start date - Submission Summer 2010
Completion date -

The NHS's merciful decision not to proceed with an horrific office park penned by Aukett Fitzroy Robinson has paved the way for Keppie to rework the plans by reinforcing the urban block to the city whilst melding into a more open landscape to the western perimeter. Particular emphasis is to be placed on view nodes along the Broomielaw and Argyle Street corridors whilst the fate of Bilsland's bakery remains up for discussion.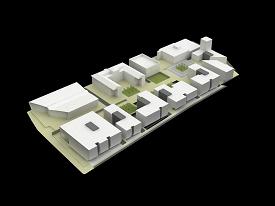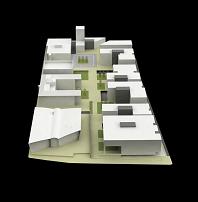 Located adjacent to Cheapside and just south of the Anderston estate the development will comprise office space, a hotel and "prominent corporate HQ" on a platform built a couple of metres above street level with undercroft parking, leaving open areas in the deck. A public walkway will run the spine of Central Quay, landscaped with high quality concrete and aggregate stone paving with granite banding and cafe facilities.Proposed public realm improvements include landscaping of the Clyde walkway, new footbridge across Clydeside Expressway, upgrade to Anderston station.

Prior scheme
Akeler had set a new low in commercial architecture with a sequence of barrel scraping blocks finished in STO Render, ribbon windows and standing seam metal profile cladding that would have shamed most out of town business parks. A 4* Hotel La Tour from Featherstone Austin Woodward Architects.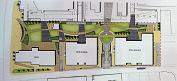 Daily Record HQ image provided courtesy of Stuart Neville @ Glasgow Pictures, refurbishment proposal put forward by Wylie Shanks Architects.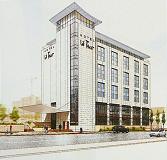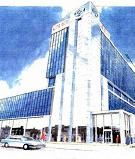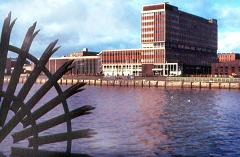 Cafe in the Square : Published : 27/03/10

Planning ref. -
Developer - Glasgow City Council
Architect -
Cost -
Location - George Square
Status - Vision
An abortive Council run comp for a George Square cafe from 2005, akin to a similarly successful Glasgow Bridge comp.

Nord's café articulates a sense of "Scottishness" through use of stone, heather and water evidenced through a plinth, planting and waterfalls. StudioKAP elected to consider wider traffic management strategies, reordering statuary, paving, improving the relationship with Queen Street Station and re-statement of the Square perimeter. Richard Murphy's linear approach faces the Square from its west side with services buffering Queen St. Repositioned statuary would be enclosed within a perimeter wall and canopy.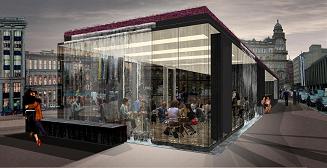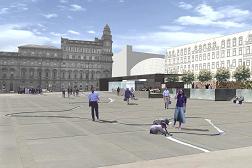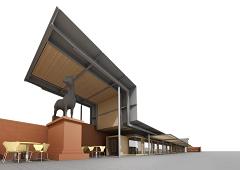 JM Architects were inspired by Edward Hopper's "Nighthawks" to dissolve notions of inside and out with black basalt and red toned timbers. Incised into the Square is an Imperial measurement scale that serves to inform layout and proportion of the pavilion. RMJM opted for a "simple" and "calm" pavilion as a sculptural form within the historic confines of the Square. Reiach & Hall plumped for a spot of bling with a café dubbed "The House with the Golden Windows" rendered in gold glass, a reflective skin that reacts to changing light.