Visions
---
Tradeston Concept
Developer -
Height - 50-70 floors (600-800ft)
Architect - Aedas
Cost -
Location - Clyde Place
Status - Concept
Aedas Architects have unveiled striking concepts for a duo of talls more akin to the booming economies of the Far and Middle East than musty Tradeston. A skeletal sail taller than the Kingston Bridge is long would dwarf the city's existing tallest, The Science Tower. Providing an unmissable statement of intent and a dramatic counterpoint to the emerging business district, the tower would signify arrival to millions of travellers every year. Further east toward the George V Bridge rises an even greater behemoth. A golden rectilinear form that dances skyward, the opaque façade screening an irregular latticework that juts and protrudes at will. The two towers would be visible across the greater Glasgow area, pinpointing the city centre amidst the morass of suburban sprawl. Neither scheme is currently commercially viable, each being several orders beyond present limitations but both serve to intimate what is achievable at the fringes of possibility.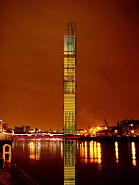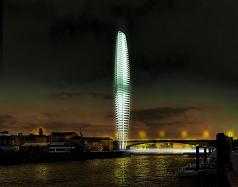 10 Anderston Quay & 236 Broomielaw : Published 09/07/08
Official site
Planning ref. - 08/01731/DC
Developer -
Agent - Colliers CRE
Architect - Keppie
Materials -
Height -
Total beds -
Commercial - 278,764sq/ft
Cost - £300 million
Location - 236 Broomielaw, 10 Anderston Quay
Start date -
Completion date -
A masterplan has been undertaken for this critical city centre site in the wake of numerous failed previous attempts to regenerate a sizeable slice of city centre brownfield land. Putative plans call for a pedestrain friendly environment ushered in through creation of a series of interlinked public squares.



Prior designs
Kenmore's 236 Broomielaw, gm+ad, is one of the highest profile schemes to be laid low by the credit crunch. A 30 storey limestone clad international style slab would have towered above the Clyde riverfront, an unprecedented sight amongst Glasgow's resolutely low rise real estate. These modernist pretensions ultimately proved an ambition too far for overstretched Kenmore whose appetite for risk dissipitated in the stomache churning convulsions of the financial markets. This market cooling has put any hope of regeneration on the key site on ice until the property market heats up. The location remains hot property however and land owner Scottish Enterprise have stated a warm reception will be afforded to any new bid when the site is re-marketed. The news comes as a blow to Glasgow's International Financial Services District and gm+ad architects whose monumental vision must now remain trapped in 2-dimensional limbo, a glimpse of what might have been. With similar calamity afflicting Elphinstone Place future high rise prospects now rest on the shoulders of Glaswegian businessman Charles Price with Jumeirah, an onerous burden for one man who must now be feeling trapped in children's nursery rhyme, "10 green bottles standing on the wall"…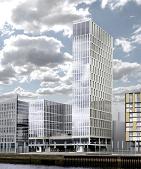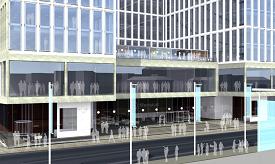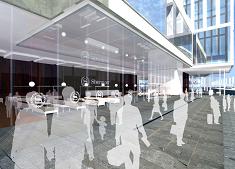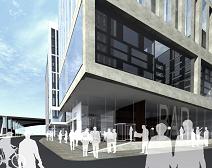 Kenmore Property Group have fended off stiff competition in securing the most prestigious commision in Glasgow, 236 Broomielaw. Sheraton Hotels decision to secure a pre let of the landmark tower being symptomatic of the growing maturity and financial clout of the IFSD as Glasgow continues to outperform the UK market. Raising the city to a new level of commercial vigour the tower promises to become a new city landmark visible across much of the south side as portal for citizens and visitors to the regions economic hub.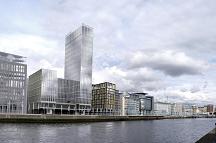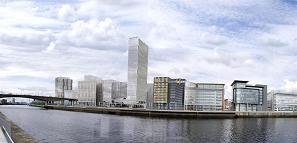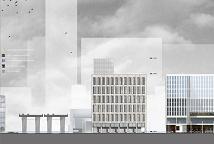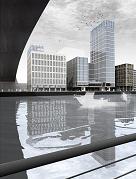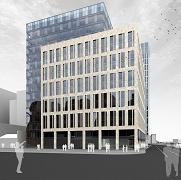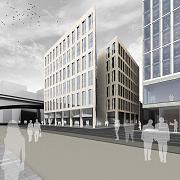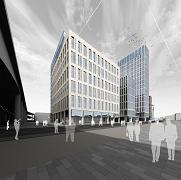 Snodgrass Mill comprises twin office blocks framing a public courtyard. A heavy limestone screening system is used to contain noise, vibration and pollution from the adjacent motorway, broken only by a sleeve of glass rising to command the eye. An exposed eastern corner flanks the Clyde Port Building in a conscious frame of reference to delineate the IFSD perimeter via twin visual stop ends. As foil to this new architecture public realm relects enhanced stature by effecting embedded street lighting set amidst alternating beige and grey granite paving, peppered by precast concrete cube seats and planting.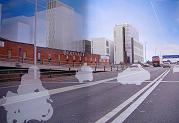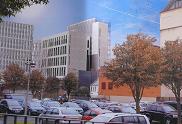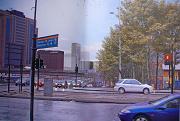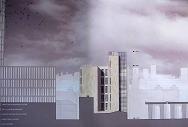 Datums respect the precedent of 220 Broomielaw (since cancelled), generating a visually harmonious streetfront punctuated by tower element. Prescribing to international modernism each 4 square block extrapolates the city grid to riverfront by maximising floorplates at keen build cost. The bulk of the hotel is broken by a courtyard form in a manner not dissimilar to Holiday Inn, fortunately the over bearing mass of the former is enlivened here by double height foyer pods and the presence of a glazed tower. Definition is provided by a prominent lattice banding of curtain wall glazing delineated by a spectacular double height pinnacle establishing a further irridescent lantern for Glasgow's growing crown, allowing guests to soak up a growing downtown atmosphere.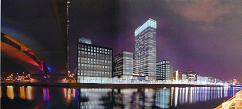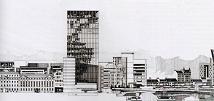 Enjoying favoured vantage at the heart of the Broomielaw office quarter immediately adjunct to the riverfront the scheme falls mid way between the Argyle International and City Wharf, together representing an impressive assemblage of floor space. City authorities are keen to officialise this natural progression with talk of a nascent high rise cluster publically declaring themselves amenable to large scale intervention from Charing Cross through the Clyde corridor, sending an important signal to architects and developers that this and future proposals will not be prejudiced against on a basis of height. This realises tantalising prospect of a new generation of structures unimpeded by arbitrary limitation to usher in an exciting new intensity of urbanity.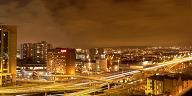 Opinion
Snodgrass Mill greatly benefits from introduction of a traditional alley pend, serving to slice the city block into slender wedges whilst camouflaging ground level parking. Playing with the geometry of a city block in this way enhances profile as massing shifts in plane with site footprint. A twin facade grants illusory double height frontage communicating grandeur to the street in mounting a stiff defence to a hostile environment. It is the tower though which draws the eye representing clearest evocation yet of an IFSD high rise quarter. An understated almost plain facade reflects classical symmetry powerfully imbuing the structure with a sense of wealth without succumbing to pretentiousness. Following the doctrine laid down by Mies gm+ad have effected a sleek, timeless corporatist structure but this rigidity does lack the flamboyance of a more personable Argyle International. The modernist dream of post war planners may be coming to fruition a half century behind schedule.

Submitted proposals represent culmination of a design war between rival camps as each potential developer sought to take full advantage of site outlook and motorway trade in garnering the maximum prestige for their client. Make had mooted a 30 floor plus elliptical tower stacked upon a gently curved podium base, RMJM and HFD tried dangling a 44 storey carrot before Scottish Enterprise, all to no avail. The winning bid will supply much needed 5* hotel accommodation for an unnamed operator in addition to commercial space, serviced apartments and a budget hotel. Current proposals demonstrate confidence unobserved in Bellway Homes & Holmes Partnerships budget £16 million, 160 unit L plan housing scheme with street commerce enclosing a decked parking courtyard. gm+ad's redrawn proposals do the city better justice reflecting the site's key status in accordance with City Wharf and the Kingston Bridge.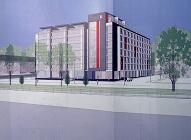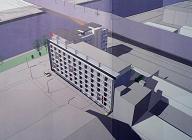 Reaching the big four-o remains a cause of anxiety for many, but in cityscape terms it looks to remain a forever unattainable goal. This emerald palace from Cooper Cromar would have set a new height limit for the city by busting the 40 floor barrier housing a 600 person banqueting facility, hotel and associated office block. In the end up the scheme fell by the wayside as the partnership between Kenmore and gm+ad stormed through. In marrying visually with the distinctive palette of an ill fated Elphinstone Place, Cooper Cromar's vision alludes to an alternate city where the future's bright, the future's turquoise.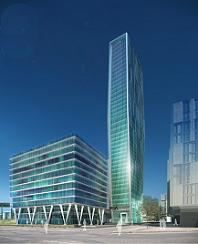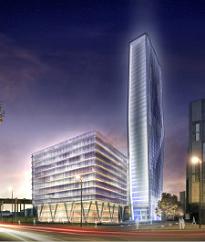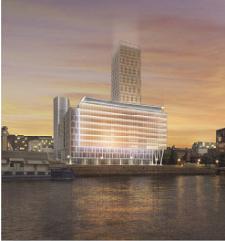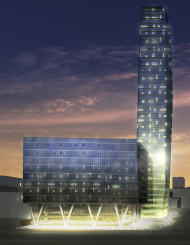 A proposal from AIG Developments and 3DReid for the 236 Broomielaw site, incorporating a 250 bed five star Hyatt Regency Hotel and 150,000sq/ft of offices. The tower would have incorporated a rooftop garden. To the right is a concept proposal from RMJM for mixed use towers at Anderson Quay. At 44 & 65 floors respectively they are designed to achieve a level of hyper urbanity in the city and ease further sprawl pressures on the countryside. Burj Dubai sown to scale for comparison. In addition Kepp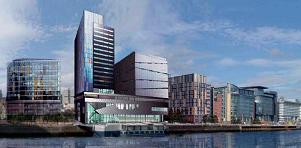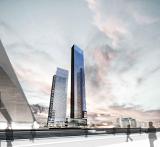 Solar Lilypads
Planning ref. -
Developer -
Architect - ZM Architecture
Cost -
Location - The Clyde
Status - Vision
Start date -
Completion date -
In an audacious piece of biomimicry ZM Architects aim to harness the sun's energy by emulating wide circumference lilypads as receiver dish for solar radiation. Tethered to the riverbed onboard motors would allow the discs to trace the suns trajectory. Quite what impact this will have on shipping (such as it now is) and whether the flotilla will ever provide enough energy to boil a kettle will be subject to a trial run by Glasgow Science Centre & city council..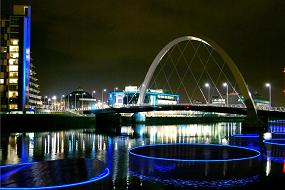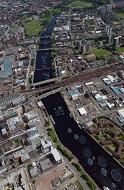 Glasgow School of Art Degree Show 2009 : Published 24/06/2009
Official site

Future visions - John De Maio
The future is an elusive beast always one step ahead of the present, never quite in reach. De Maio has circumvented the restrictive nature of spacetime however by tapping his own minds eye to foresee what may come to be. Fashioning us with a giant hi-tech termite mound rising above Central Station, a soggy Broomielaw and a monorail dominated Buchanan Street that would make George Bennie proud.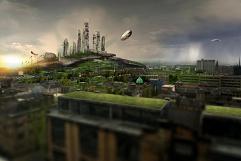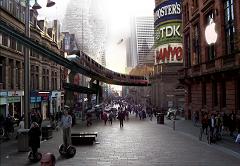 Gallowgate Tower - Michael Bailey
Drawing inspiration from the "Jeely Piece" song this alternative remodelling of the Gallowgate seeks to insert an "object of intrigue" at the fag end of the Trongate, physically and mentally shifting the cities centre of gravity to the east. Eliminating the sarnie splatter of fabled source inspiration the tower will be divided into communities of 8 and 12 flats, each sharing a communal garden space. The scheme is sponsored by Make.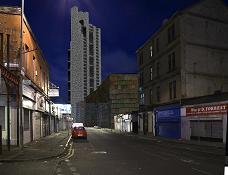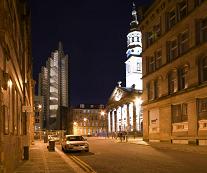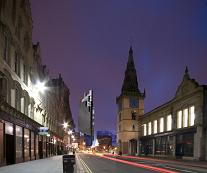 Queen Street Station - Caroline Hull
Attempting to surmount the overcrowding and dysfunctional space of Queen Street Station by plugging the station back into the urban fabric as a key transport node by relocating Buchanan Bus Station to a new roof level concourse above the east and west flanks of the central engine shed, the spaces below housing space for retail, entertainment and leisure.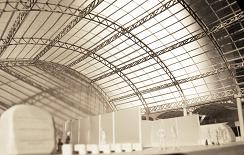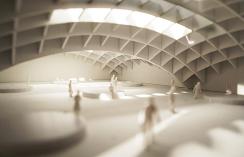 Inadequate present entrance provision will be remedied by pushing the station façade out to Buchanan Street via a station arcade complimenting Buchanan Galleries. Removal of an unfortunate accretion to George Square would allow a prominent dounble height entrance space to take its place, serving to both expose the Victorian engineering of the main shed and allowing a viewing platform to be installed for George Square vistas.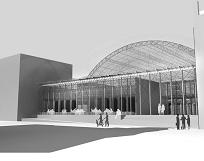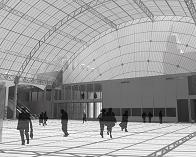 Gallery of Contemporary Scottish Art - Michael Bailey
Striking a very different evolutionary path to Evolution Bailey has addressed a kink in the streetscape to triangulate an impressive courtyard space to illuminate the interior in angular symmetry.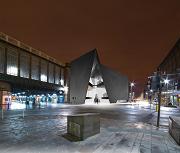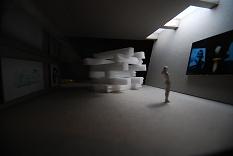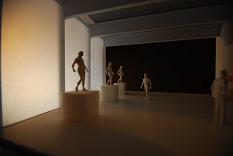 Ingram Street Gallery - Bernard Zammit
Subverting the questionable pleasures of the Ramada hotel this honeycomb lattice takes inspiration from our improbably flighted insect cousins to nest a dramatic sequence of hexagonally lighted spaces for the perusement of art.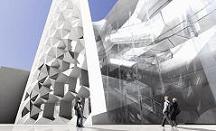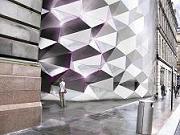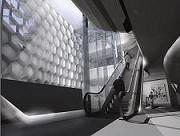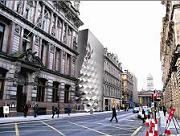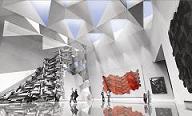 Buchanan Gallery - Yun Wu
Buchanan Gallery from Yun Wu mirrors its brasher contemporary in name only, providing instead some cultured relief amidst the money making and fashion flaunting on Glasgow's premier retail avenue. Occupying a legally contentious corner plot the gallery counters capitalist excess with a zen like contemplatative environment for the appreciation of objects of art, entombed in concrete but for a single skylight blasting a directional shaft of photons.








Parktick - Melanie Hay
Taking green living to new heights this vertical Park ticks all the right boxes for a sustainable future of veggie villas. Gravity defying shrubbery is made possible through an external frame affixed to the façade, upon this specially designed panels can be affixed comprising layers of rot proof felt and growth medium to facilitate the proliferation of non Newtonian plant life. As with Tesco's commercial scheme for the site ambition is to create a green route along the Kelvin,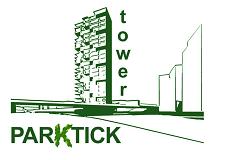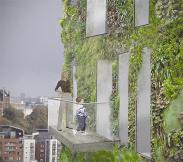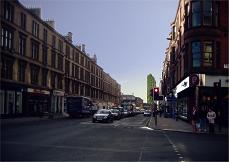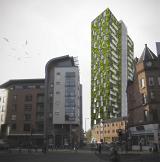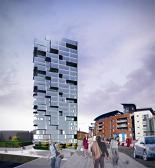 Vision: 2057 : Published 17/11/2007
fg is generally concerned with actions and plans of today which affect the immediate future, but what of the far future? Predicting the future is perhaps an impossible task inevitably raising more questions than answers but is nevertheless a worthwhile intellectual exercise. Glasgow School of Art have thus taken a no holds barred approach to producing an exhibition depicting the potential futures which await us.

With peak oil behind us what alternative sources of energy might be devised? Possibly synthetic or bio fuels which can be derived from any readily replenished carbon source such as herbaceous grasses grown on site. Increased reliance on wind power would necessitate exponential increases in the population of turbines such that they may become as common a feature of the urban landscape as they are of todays countryside. Falling costs of electrical goods, new technologies and commercial demand could see interactive electronic billboards erected on our more prominent structures, here envisioned upon the Provan gas works.





The river is treated as a resource rather than obstacle with living bridges designed to bridge the economic divide not only the physical.







Will relaxation in gambling laws create a more decadent society? Or will fuel shortages and escalating energy costs produce a more egalitarian society with greater reliance upon locally sourced produce from urban farms.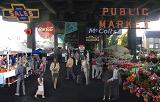 Will demographic decline see a retreat of the city in some districts? Newly established nature reserves would bring the countryside to the people and restablish a satisying urban/rural contrast lost to suburbanisation. New stadia might illuminate to reflect performance within.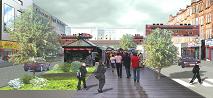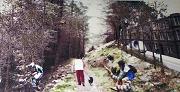 The only certainty of the exhibition is that the Glasgow of 2057 will little resemble that shown and (barring mishap) be in large part similar to Glasgow of today. But it is change which interests and watching the city develop over the coming 50 years should prove fascinating. The future will be no utopia, but it should be better, anything other will mark the failings of the present.


Skyhouse
Present scheme

Developer -
Height - 50 floors (600ft)
Architect - Marks Barfield
Cost -
Location - College Goods Yard
Proposed - 2003
Cancelled - 2003
Doomed Livingstone Tower visible far left. The GPO building can be seen directly in front of the tower.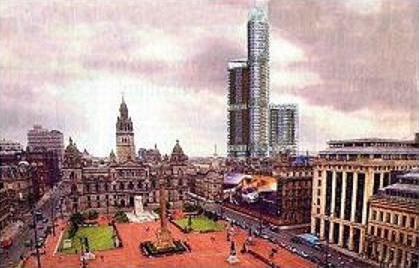 Doomsday : Published 12/07/2008
Official site

Glasgow 2037, city of the dead. The abandoned city lies before, a vast sprawling ghost town. Most of the city is made out of burned-out shells, stretching for miles and miles. There are signs of looting crowds looking for food and water, birds nest in the grand hallways of St. Andrews Hospital, all of the buildings have succumbed to nature's onslaught. From fungus to ivy, to grass and weeds, nature has reclaimed its authority over this urban wasteland.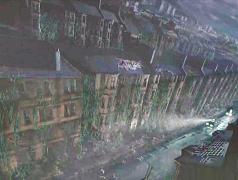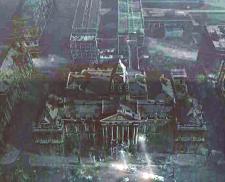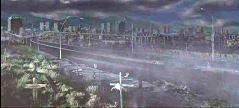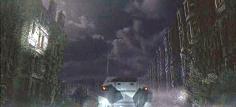 Chaos reigns as the British government is forced to rebuild Hadrians wall, entombing Glasgow and its people within a barren northern hinterland. No, mercifully the SNP haven't attained power, this has been brought about by the "Reaper Virus" the primary plot mechanic synonymous with Doomsday, a big budget Sci Fi/Horror flick. Filmed on location in Haghill, deemed believable approximate to a post plague society, the film offers glimpse of a very different future for 110 Queen Street alongside a bizarre classicised City Chambers, masquerading as the fictitious St Andrews Hospital. Bit of fun but a reminder that continued ascendency is never a guarantee.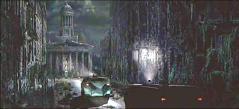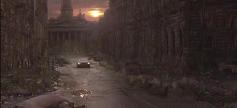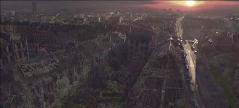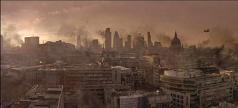 East One : Published 03/12/07
East End Gallery
Planning ref. - 07/02902/DC, 07/03317/DC
Architect - g5
Height - 37 floors
Usage - 196 Residential flats, Leisure, Commercial space and a 96 bed hotel over 12 floors, 100 flat perimeter block and 2 levels of underground parking incorporating 420 spaces.
Cost - £120 million
Area - 2.5 acres
Design - Elliptical form based on One Wall Centre in Vancouver. To be illuminated.
Location - 121 Millerfield Road.
Status - Vision

Grantly developments towering ambition has fallen flat with news of proceedings for site disposal valued at £5.5 million, the resultant £700,000 financial loss exceeded only by tarnished reputation. Mounting opprobrium following the Commonwealth Games win appears to have finally forced Grantly's hand, preventing messy compulsory purchase orders.

Against all odds a (slender) planning application has been submitted for East One incorporating compass perspectives of indicative proposals. Sadly the anaemic detail within has invalidated the application upon arrival pending an environmental impact analysis from the applicant. As is the plans merely confirm a reduction in height from the initially trailed 55 floors, 180m (591ft) following removal of the hotel element.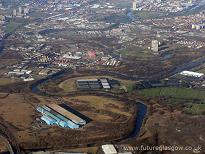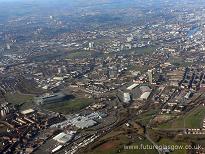 With the Commonwealth Games in the bag now might be time to revisit the disputed and mythical East One tower which could yet form a dramatic centrepiece to the Games following a spat between Grantly Developments and GCC which has cast doubt upon an already vague scheme comprising:

Phase 1, a 5 storey, 100 home tenement block with 188 underground parking spaces supposed to have launched in November 2006.
Phase 2, the tower is still conceptual.
Grantly had hoped to do a land swap/lease back or sale looking for £7.8 million having bought the land for £6.2 million, this £1.6 million profit was viewed as "holding the city to ransom" and negotiations were terminated. With the developer so keen to sell it seems obvious their was little intention to build, sensing this the bureaucratic leviathan attempted to shoulder Grantly off site so that full ownership of the lands could be assumed facillitating the councils vision of an Athlete's Village. Nevertheless Grantly obstinately maintain ownership and stress long standing plans (the most ambitious so far seen outside England) for the area. It is now Grantly's stated intention to press ahead with a full planning application with the only concrete evidence of any progress thus far being a sign erected on the contested land, seemingly designed solely to cock a snook at the council as opposed to any genuine marketing attempt. The council have now amended their plans for the village to exclude the Grantly land, fortunately the episode did not adversely affect the Games bid.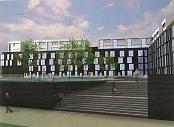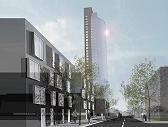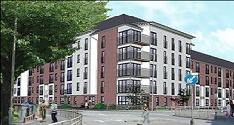 The tower will fall below the developers previously stated aim of being the tallest tower in Scotland at 55 floors (pictured below), diappointing but it does indicate that the schemes backers might be pursuing a costed scheme grounded in reality and not some pie in the sky scam. At whatever height East One will dominate the Clyde Gateway. The scheme should be served by a refurbished Dalmarnock station, ready to serve the Commonwealth Games in 2014. Rutherglen Park, a new mixed use scheme, will be built across the river. An approved 79 home residential with private parking and gardens provided for behind street facades is proposed by Imagine Developments at the Springfield/Millerfield Rd junction. East One itself encompasses newly created public parkland,






Opinion
A tall proposal has certainly been desperately anticipated, the continuing dearth of skyscrapers in Glasgow is of mounting concern. The city is crying out for townhomes and tenements to provide place and proper skyscrapers to give the density and skyline. Whether or not this comes to pass at least Dalmarnock and the East End are generating renewed interest. If this scheme (and the games) can open peoples eye's to the potential that exists out there, they'll have been a success.


Elphinstone Place : Published 15/09/07
Official site
Developer - City Lofts/Elphinstone
Architect - Conran and Partners/Cooper Cromar
Usage - Residential and Commercial
Materials - Glass
Height - 39 floors, 134m
Cost - £100 million
Total homes - 202
Commercial Space - 184,000sq/ft (14,399 sq/m)
Location - 1,3 and 6 India street/314-320 St Vincent Street
Status - Vision
Start date -
Completion date -
City Lofts had been in negotiation with the schemes funder, New York based Lehman Brothers, to engineer an economised design shorn of non productive features and height, including a public viewing gallery and restaurant. This was meant to bring the project within the developers pain threshold but it is understood Lehman Brothers are now unwilling to advance as much capital. As this unravels it is difficult to foresee an outcome beyond continuation of the present mothballs until such time as the site can be sold. As a choice development plot it will be attractive to buyers and partners even in a declining market.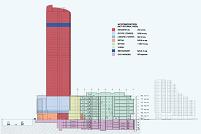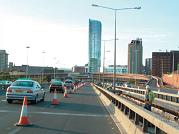 If Charing Cross is the beating heart of Glasgow then small wonder the city was on the brink of cardiac arrest through much of the 20th century. Shambolic road interventions and odious municipal architecture combined to make Charing Cross a no go area. A curse bequeathed on the city then, but also an asset for far sighted 21st century developers to take advantage of by producing a truly 3 dimensional vision employing a different profile from each perspective. Elphinstone Place is the tallest proposed high rise since 1992's Hilton and an important staging post for the developing Charing Cross high rise quarter, The twenty eight storey Elmbank tower is rumoured for Charing Cross station adjacent to the existing Charing Cross hotel and Dial House represents potential for future redevelopment in what could be a nascent cluster.









In planning for 8 years Elphinstone Place will go some way to healing the gaping wound of the M8. The impressive glazed atrium (modelled on Foster's "Tower Place" scheme), will sport a yet to be unveiled public artwork the public artwork an overtly generous gesture for a scheme of this type. The towers ground level impact is adept, the tear drop profile is unique and its orientation in relation to the motorway lends it additional gravitas producing a confident commercial statement contrasting with the squalor of the Anderston estate. This panorama, shown courtesy Russell Davies, showcases Glasgow's redefined 21st century skyline dominated by Elphinstone. The Pinnacle and the U/C Cuprum should add bulk.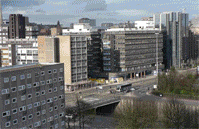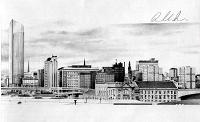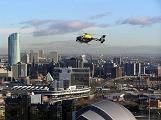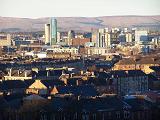 Evolution of a Skyscraper
Today's Elphinstone Place is but the latest in a long procession of failed designs for the India street site. As far back as 1999 Holmes Partnership had drawn up tall proposals for CALA. Triple towers featured early as did "green" features. Cooper Cromar picked up design reigns in May of '03 adding further refinement as MacDonald hotels pulled out of the project and the triple tower design was shown to produce too much wind shear, necessitating focus on a lone tower design with unique tear drop shape.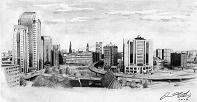 gm+ad office scheme for the Elphinstone site.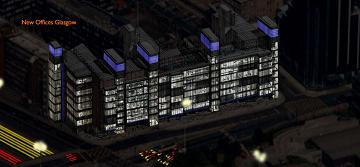 Peel Tower : Published 02/12/09
Developer - Peel Holdings
Architect - RMJM
Cost -
Height - 21 storeys
Location - 62 Broomielaw
Status - Vision
A series of landscape strips carry up and over the building with each strip taking a slightly different route. This creates a series of folds which help to deconstruct the towers mass. Rhino and Gehry Technologies software was used to develop sketch designs in more complex geometries.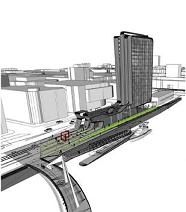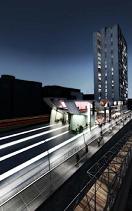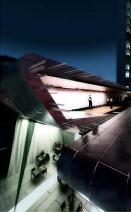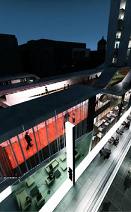 Elmbank Gardens
Planning ref. - 04/04414/DC
Developer - Credential Holdings
Architect - ZM Architects
Usage - Commercial
Floor space - 109,000 sq/ft
Materials - Black granite, zinc and etched glass
Height - 10 floors
Cost -
Location - 349 Bath Street/1-15 Elmbank Gardens
Status - Dormant
Start date - n/a
Completion date - 2014
Elmbank Gardens, situated atop a redeveloped Charing Cross station overlooking the Mitchell Library and Elphinstone Place, has been subject to significant design alterations.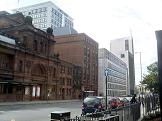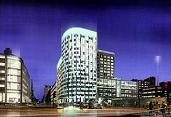 Alternative schemes
Feasibility studies for 28 floors (107.5m) of hotel, residential and office space at Charing Cross. The scheme would have incorporated a cafe, gymnasium and expanded retail and commercial space.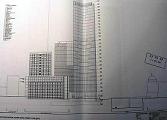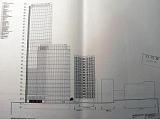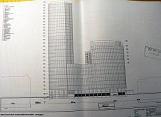 An artists water colour of an imaginary scheme and Young and Gault concepts.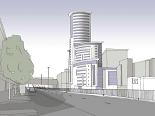 World Trade Centre
Developer -
Height - ~20 floors
Architect - JM Architects
Cost -
Location - SECC
Proposed - 1989
The WTC stands on the site of Fosters Armadillo with Crowne Plaza rising behind. PO-MO riles many but the collonaded foyer looked impressive, it wouldn't have been a cheap build. It's clearly at sixes and sevens with its environment though and is not on a par with the far more graceful Hilton.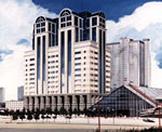 Cook Street : Uploaded 11/08/06
Planning ref. - 03/03406/DC
Developer - Boswinstone Ltd
Architect - Young and Gault
Height - 19 floors
Materials -
Total flats - 302
Cost - £28.5 million
Location - 23 Cook Street (terminating Centre Street)
Status - Cancelled
Tower and adjoining block with supermarket, health centre and social club under consideration for Tradeston. Site will be bounded by the new M74 link to the south and is situated one block down from the proposed Tradeston tower.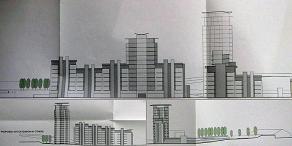 City Inn : Uploaded 24/09/07
Official site
Developer - City Inn
Architect - Bennetts Associates
Height - 17 floors
Usage - Hotel
Rooms - 120
Cost -
Location - Finnieston Quay
Status - Vision
A tower expansion of City Inn above the existing Cafe at the Finnieston Bridge has been scrapped, although expansion to the west is not precluded at a later date. Investigation of the constrained nature of the site proved the project unviable irrespective of configuration. Land opposite is still scheduled for a new hotel from Forrest. Meanwhile a deflated zeppelin on stilts, last seen being chucked in the Thames by Churchill, could be making a comeback in (of all places) Glasgow. Fondly remembered by some in the Capital the structure was intended as showpiece for Britain's planned renaissance in the aftermath of financial and physical ruin. Ultimately insufficient of itself to affect Britain's merciless post war decline the structure is nonetheless being touted as symbol of the Clyde's rebirth. Given todays tech savvy and fickle populace the structure is unlikely to attain the same appreciation as its originator but geographical whimsy does at least excite imagination beyond the M25 belt of an important architectural moment.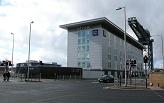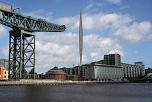 Dumbarton Harbour
Official site
Developer -Carvill (Scotland) Ltd
Architect - Cooper Cromar
Materials - Red/Blonde brickwork and zinc/aluminium pannelling
Height - Tower 1 : 14 floors, 49m
Tower 2 : 12 floors, 38.5m
Total flats - 331
Cost -
Location - Former Allied Distillery site
Status - Under appeal
Start date - October 2005
Completion date - October 2008
This scheme has been blocked by the Council, who claim loss of sight lines to Dumbarton Rock, poor accessability and lack of car parking. Blonde buffed brickwork was to be used in part of the scheme as all red would have been too much. The penthouses will be in aluminium/zinc or similar to lighten appearance. It's all disappointingly cheap. In context though it's way beyond anything else in Dumbarton and comparable to the stuff they chuck up in Glasgow/Edinburgh, even docklands. This is just the first phase. The brownfield land snaking round the river to the rock will house commercial/retail and further residential. Necessitating a bridge to connect up.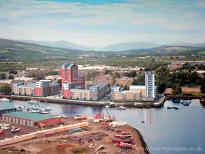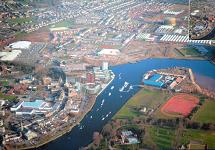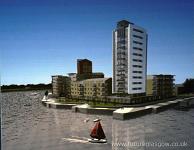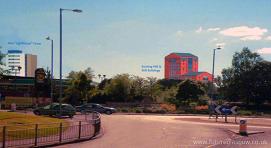 The tower is monickered "The Lighthouse", apparently because it's white and sits on a promontory. A lighting strategy "may" be looked at. Some poor quality materials, in this case white pannelling, might reduce daytime presence. Biggest complaint is the way the tower hits the ground, the meagre one storey residential block completely detracts from what ought be a visual highlight. The space cpuldbe opened up and a pub/bar put in with great views of Dumbarton rock. A connection would have been established between Dumbarton Riverside Parish Church and the river, for the first time ever. The refurbished mill building looks a lot more impressive shorn of its warehousing. A mettalic strip running across the ground acts as a wayfinder directing people towards the central square and the river. With the 14 storey 1930's mill tower the square should be an impressive space. internal courtyards of the tenemental blocks will house decked over private residents parking, all off street. The steelwork is the same as used in nearby yards and the square will be well lit by designer lighting columns.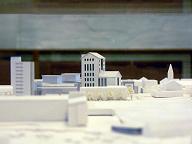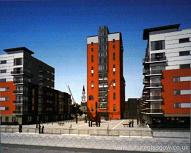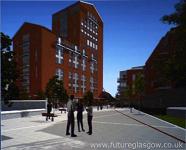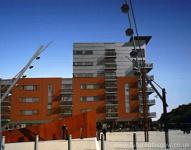 Gordon Cullen: The Potential of Glasgow City Centre (1985)

The Cullen report is important for distilling the scattered threads of new thinking in urban planning into a well illustrated blueprint that mapped out step by step policies to be pursued in a bid to allow the city to escape industrial decline. Though entirely unbuilt as imagined the vision for Glasgow proved massively influential to a generation of architects and planners, providing a manifesto for physical and political change that called for:
Closer links between business and government
Beautification of the city centre through re-engineered public realm
An entrepreneurial environment
Promotion of these efforts in a national and international context
Key to the vision was enhancement of the city centre to become a honey pot, thereby luring in outside investment, trade and peoples by creating an environment conducive to retail, leisure and business. The strategy proposed called for implosion, much as stellar evolution, Cullen called for contraction and upped densities to rekindle the flame of urbanity. The central artery of this new heart would be Buchanan Street which would act as central spine flanked by the culturally discrete districts of Blythswood New Town and the Merchant City. The street would become a new civic promenade delineated by grand public squares terminating at the riverfront which would itself become a "sequence of places" breeding diversity and coalescing a chain of distinct destinations.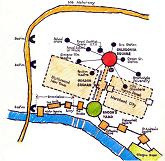 Cues to the central cities importance were to be highlighted by strategic "bastions" or high rise structures immediate to the motorway edge as it scythes through the city centre. Contrasting landscaping on opposing edges would create clear visual distinction of inside and out. Grand archways would signal arrival and departure from the central district commanding key gateways at Sauchiehall and Ingram St's.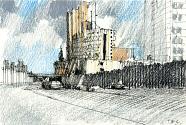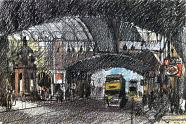 A riverside chain would conjoin destinations of individual identity, a "string of pearls". By stressing such inter connectivity no element or place can be considered in isolation, all are chess pieces in a wider strategem, terminated by the "full stop" of encircling bastions.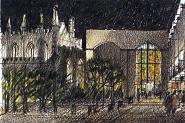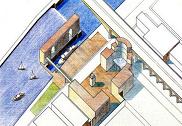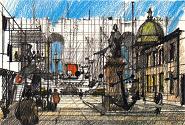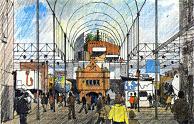 Buchanan St is polarised through establishment of defined uses, a leisure area at St Enoch Yard, an "urban village "enclosed by an arcade comprising glazed vaulting and space deck roof. The centre of gravity in the street is punctuated by Gordon Sq, to command the Ingram St axis into the Merchant City. Key focal points such as this would be protected by glazing accentuated by projecting arched bays. With an emphasis on entertainment to extend vitality beyond business hours. Thomson's Caledonia Rd Church would be transplanted to a new civic space at Caledonia Sq, a citadel of culture situated upon an elevated, level podium providing formal articulation of the knuckle between Buchanan & Sauchiehall St's.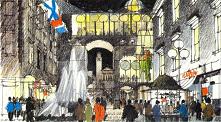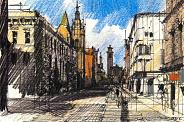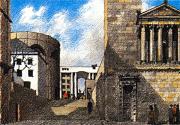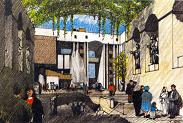 Following the then government's policy to encourage greater involvement of private enterprise in regeneration the body known as 'Glasgow Action' was established, founded on the principles of Gordon Cullen's report. By 1988 the board, composed mostly of local businessmen, were able to report that the polar buildings of the Buchanan Street axis were under construction with proposals in hand for realisation of a new Broomielaw commercial quarter. The precursor to todays International Financial Services District.


Homes for the Future (Phase 2)

Developer - Bellway homes
Architect - RMJM
Height - 13 floors, 44m
Total flats -
Cost - £12 million
Location - Glasgow Green
Status - Approved
Start date -
Completion date - n/a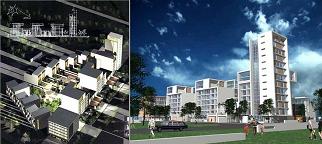 Douglas House : Uploaded 11/07/06

Planning ref. - 03/03175/DC
Developer - Carisbrooke Investments
Architect - Hugh Martin Partnership
Height - 12 floors
Materials - Solid glazed copper and zinc panels alternating on adjacent floors
Floor space - 80,000 sq/ft
Cost -
Location - 116 Waterloo Street
Status - Dormant
Start date - n/a
Completion date - 2014
The existing Douglas House is being remodelled externally with a 5 floor extension. Top 2 floors are set back and fully glazed. Development is sandwiched by Franborough House (also by HM Partnership) and The Sentinel.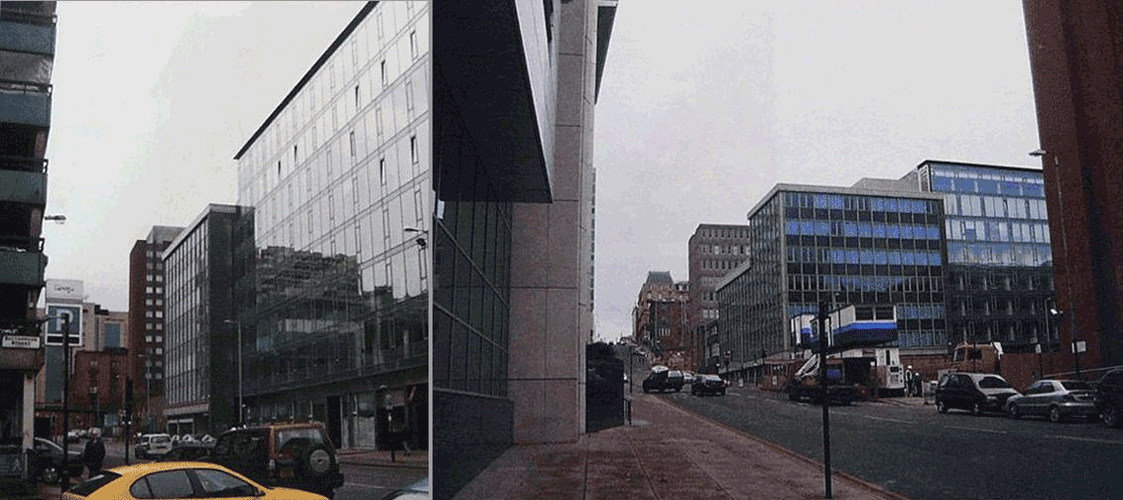 552 Sauchiehall St : Published : 21/02/09

Planning ref. -
Developer -
Architect - gm+ad
Materials -
Usage - Mixed
Floor Space -
Height - 12 floors
Cost -
Location - 552 Sauchiehall St
Status - Vision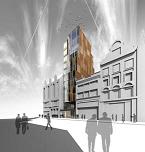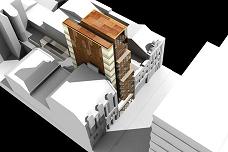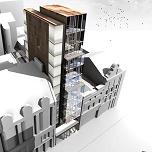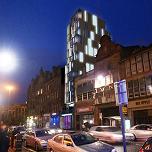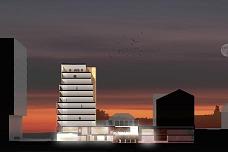 Previous site
Gone but not forgotten: Elder + Cannon's recently departed footnote to Glasgow's party drag, Sauchiehall Street, the former Bank of Pakistan building.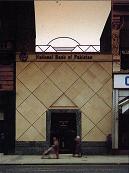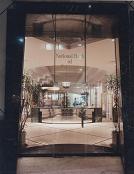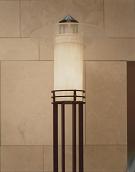 190 St Vincent St : Published : 26/02/09

Planning ref. -
Developer -
Architect - gm+ad
Materials -
Usage - Commercial
Floor Space -
Height - 10 floors
Cost -
Location - 192 St Vincent St
Status - Vision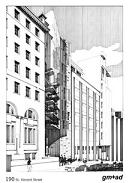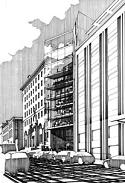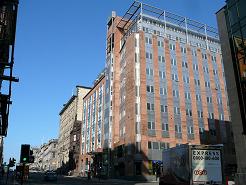 Geo-Engineering : Published 27/08/09
With the clock rapidly ticking down to an irreversible and accelerating shift in the world's climate and hoped for solutions ranging from Fusion power to Hydrogen cars still decades off efforts to address the problem are becoming ever more desperate. Three potential stop gap measures have been identified that utilise existing technologies that could give the planet crucial time to develop a long term solution. The first being 'Artificial Trees', machines which trap CO2 from the air as it passes through absorbing fins. This material is then collected and later buried in identical fashion to current carbon capture technology. Each tree would be capable of absorbing more carbon per area than a thousand equivalent natural trees, even so around 100k each absorbing 10 tonnes of CO2 per day would be required to capture the nation's emissions. Nevertheless designs are already at the prototype stage and could be deployed rapidly.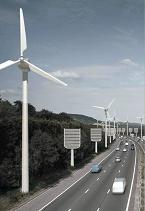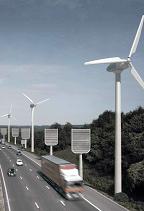 A second approach applies strips of algae to buildings, these naturally absorb CO2 through photosynthesis and could be periodically harvested to provide biofuel whilst a third model of reflective buildings was also mooted, solar radiation could be bounced back into space simply by making surfaces more reflective, helping to reduce temperatures in urban heat islands.


Sauchiehall Lane Hotel : Published 01/09/06

Planning ref. - 06/01169/DC
Developer - Darjoe Ltd
Architect - 3D
Height - 6 floors
Materials -
Cost -
Location - 57 Sauchiehall Lane
Status - Proposed
Start date -
Completion date -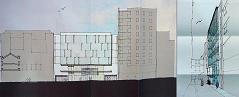 Thistle Hotel : Published 11/07/06

Planning ref. - 03/61900/DC
Developer - Thistle Hotels
Architect -
Height - 5 floors
Floor space -
Hotel size - 150 bed
Cost -
Location - 36 Cambridge Street
Status - Planned
Start date -
Completion date -
Two wings of accommodation are planned to be built above the existing function rooms. Plans are likely being reassessed in the wake of rival announcements Marriott and Holiday Inn.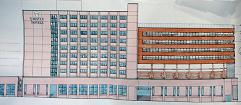 Metropolitan : Published 22/02/2008
Developer - Miller Developments
Architect - Conran & Partners
Materials - Red sandstone, patinated copper, zinc sheeting & metallic blue powder-coated aluminium
Total homes -
Floor space - 40,000sq/m
Hotel size -
Cost - £130 million
Location - Osborne, Stockwell, King and Howard St's
Status - Outline Planning Permission
Start date -
Completion date -
The St Enoch's East site remains in limbo following extended uncertainty enshrouding a vying casino and Warner Entertainment Village, each encompassing associated restaurant, bars, residential and leisure complementing retail expansion at the St Enoch Centre and residential development at Osborne Street. Conran's design stacks 20 cinema screens horizontally in a car focussed build (in marked contrast with CINEworld) above ground level leisure. Each screen is housed within a pod at variance with its neighbour in respect of material and abutment to the street generating a stepped east/west profile. This axis culminates in twin 700 space multi storey car parks clad in solid and perforated metal sheet, mesh and louvres with accommodation for advertisement and projected images across a curvature in opposition to Crossrail.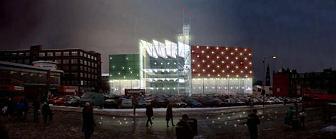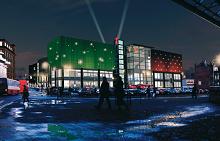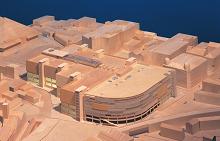 Ruchill Hospital : Published 12/01/08
Planning ref. -
Architect -
Materials -
Height -
Area - 40 acres
Total homes - 500
Cost - £50 million
Location -
Status - Vision
Start date - 2009
Completion date -
The spreading contagion of house price falls has now infected Gladedale and Bellway, prompting the pair to scrap plans for the former Ruchill Hospital site. Despite being scheduled to commence early next year a planning application has never been submitted to Glasgow City Council... and won't be anytime soon. The land remains the possession of Scottish Enterprise who must now undertake the unenviable task of securing an alternative developer for the site, in the teeth of an onerous commercial headwind. Surrendering the land to housing would have secured a future for the central A listed water tower.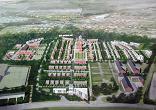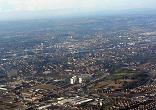 Ingram House
Planning ref. -
Developer -
Architect - Richard Hall
Materials - Curtain wall glazing
Height - 8 floors
Total flats -
Cost -
Location - Ingram Street
Status - Vision
Proposed residential conversion of Ingram House. No longer being actively considered.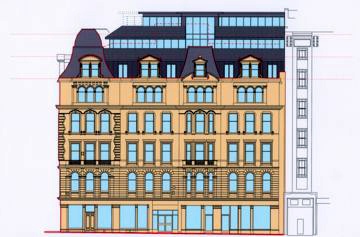 Arnotts : Published 02/01/10

Planning ref. -
Developer - Redevco
Architect - Gareth Hoskins
Height - 6 floors
Total beds - 151
Materials -
Cost - £12m
Location - Argyle St
Status - Vision
Start date -
Completion date -
Redevco propose to redevelop derelict upper floors in the former Arnotts building for commercial use, presently favouring a budget hotel. To improve marketability of current low rent and empty premises a double height glazed frontage could be installed at ground floor level whilst an atrium space could open up the deep floorplans.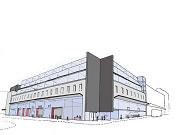 Will Beeslaar : Published 16/01/08
Official site

Striking visions of a surreal juxtaposition of present, future and the outlandish have been published by artist Will Beeslaar. Commissioned by Nord for the Six Cities Design Festival, the illustrated scenes of urban Glasgow portray familiar haunts in unusual circumstance. The conceptual portrayal of key sites dominated by outdoor lido's foretell a chilly future of very public leisure. Elsewhere Rickshaws and cyclists crowd the streets around Central Station, a far cry from today's traffic choked bus corridor. Whether these outlandish scenes transpire or not they surely succeed in exciting the spark of imagination.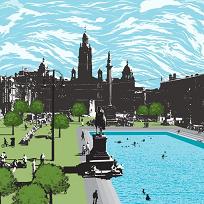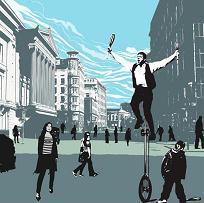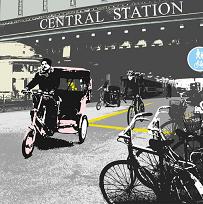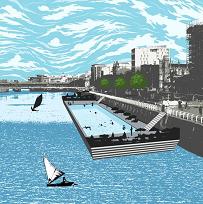 Beeslaar specialises in creative graphic solutions, producing specialised illustrations of visual interest.