Timeshift
---


It is said an image is worth a thousand words if inevitably constrained to a particular point. Two images read together however can impart history. For a complete architectural perspective then historic images are of real significance, sadly Glasgow appears to have lacked architectural enthusiasts in the historically important post war years as the city endured enormous (largely self inflicted) upheaval and decline. The only consistent source of professional colour slides have emerged from Transport hobbyists (hence the preponderance of trams and buses blocking the view), by accident if not design these scenes betray a wealth of subtle background information revealed upon close inspection. futureglasgow strongly recommends purchase of the following books for a wider selection of prints at higher resolution. Each represents the finest quality photography in their field of the period.
.

St Vincent St
Amazingly St Vincent Street is still cobbled in a period just prior to mass car ownership, the wifey might have more bother getting parked today. Depressingly, needlessly and all too inevitably a secondary Greek temple at the foot of Alexander Thomson's seminal Church has given way to road realignment, presumably at the time of motorway construction. Much of the tenement stock here is suprisingly low quality and has since passed over to grander 1980's groundscrapers although the Habitat/Pinnacle hulk clashes rather than works with the temple unlike the original greek flavoured tenement.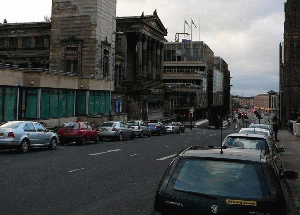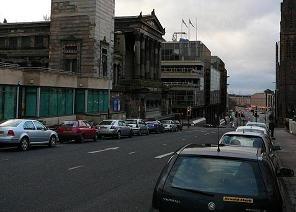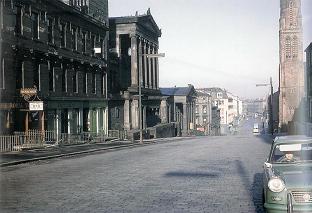 George Square
It is interesting to note that even on the brightest days buildings were black but that's not to say they weren't clean, the approaching tram is perfectly reflected in the Raleigh Coffee Room. The Millenium Hotel has been painted to mitigate this and but for the addition of a ground level conservatory looks eerily similar to this day, although nowadays paint itself merely serves to obscure stonework. The historic image reflects a more genteel George Square of manicured lawns and mature trees, a far cry from todays tacky and cheap "events space". Not that it's all bad news, todays high grade paving is far superior.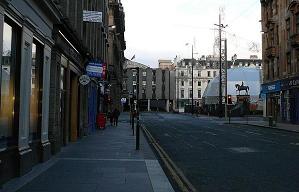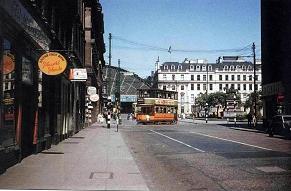 Queen St Station
A walk towards the station reveals welcome removal of an out of sorts tenement although this rationale was far from altruistic. Rather expose the station to square and light British Rail saw fit to smother it within an office block so devoid of architecture, merit and ambition it is scarcely credible. It is notable that a sliver of George Square has been sacrificed to the car.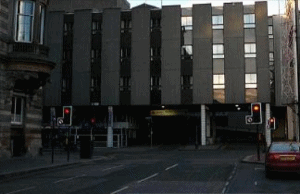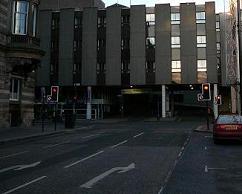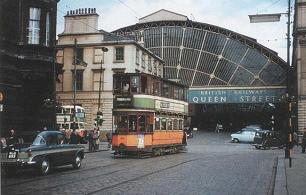 West George St
Turning the corner into West George St reveals yet another lost Greek portico, though clearly uneconomic and suprisingly diminutive at 3 storeys there is no reason why the classical frontage could not have been incorporated to any new build. An enhanced environment would have paid for itself in higher rental yields.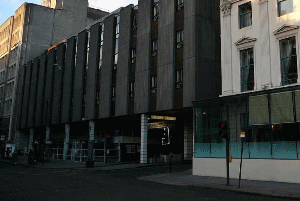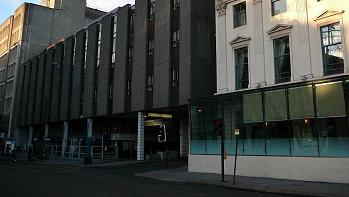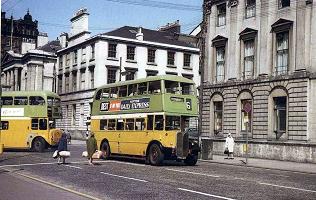 Jamaica St
Jamaica Street has been comprehensively wrecked over the years, the only link to the past being a scruffy Richer Sounds building. Loss of a line of tenements though not significant in itself has been compounded by construction of the horrific Euro Hostel tower, an act of folly which continues to this day with Jurys Inn. Of greatest loss is the Clydesdale Furniture warehouse, a rare (now rarer) Edwardian red sandstone block of ambitious stature making a vertical statement in a horizontal city. Following fire the site was razed to function as surface parking right up until 2006 whereupon the economic outlook finally recovered enough to allow some low capital multi storey parking and retail. Boots corner in the distance has given way to a "Mockintosh" block.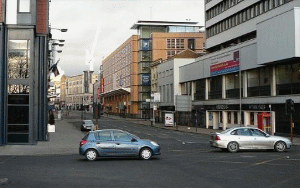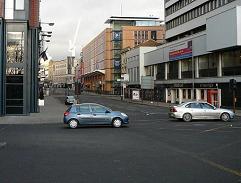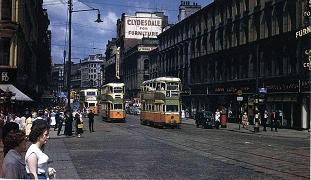 Provans Lordship
Glasgows oldest house was evidently sacrosanct even in the seventies nadir, everything else being fair game with plans to demolish the Royal Infirmary stalled only after the state had bankrupted itself, finally preventing further destruction. A fine gothic tower has been lost to falling church attendance and construction of the Townhead Interchange, the subsequent surface parking lot remaining to this day. Having destroyed much of the cities genuine history (and without a hint of irony) a mock castle was constructed for Glasgows City of Culture accolade in 1990. Garish antique traffic signals appear to have been replaced by the modern variety around the mid seventies. The banner draped over the Royal Infirmary advertises the 1966 General Election (Harold Wilson won), interestingly the lower boarded up windows have since been bricked up.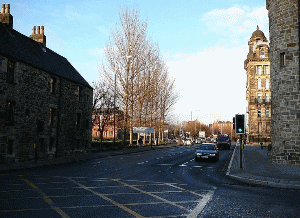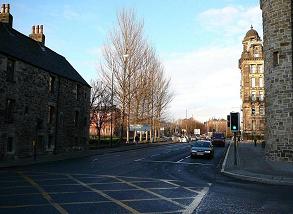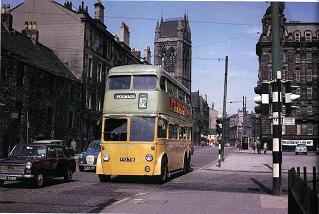 St Enoch
The St Enoch Centre is impressive in its way but no substitute for the mediaeval ramparts topped with high technology Victorian glass and steel barrel vaults of the original St Enoch Station, a cathedral of its age it has ironically been supplanted by a cathedral to the modern age. Typically the only survivor of this period is Morrisons Bar which has unfortunately survived unscathed with even the signage intact although oddly with a change of colour. The one way system has since reversed, period road signs being stamped "No Entry" just to eliminate any doubt.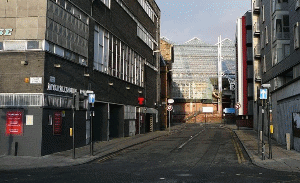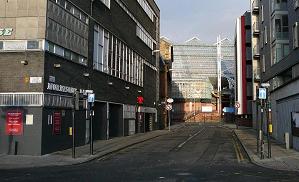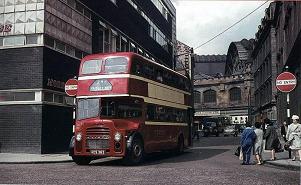 Govan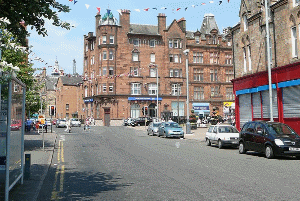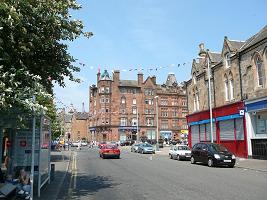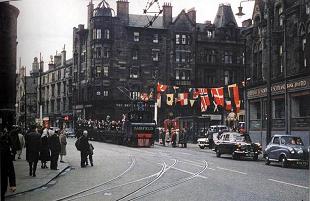 Charing Cross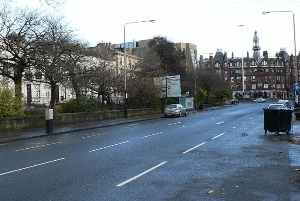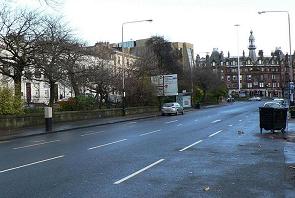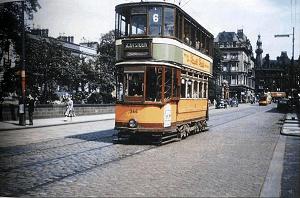 M8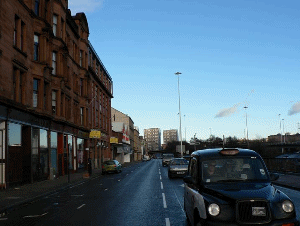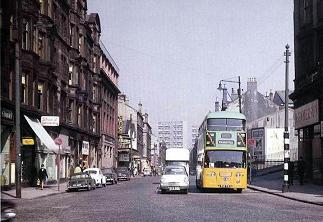 Argyle Street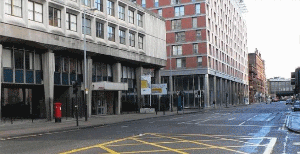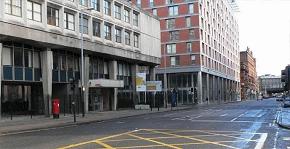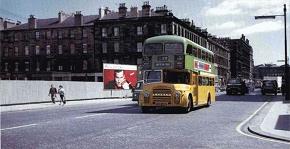 Central Exchange